The story of Müge and Masaki
Müge and Masaki met on HelloTalk. Müge was trying to learn Japanese so she thought that making friends could improve her Japanese. That time Masaki wanted to learn Turkish because he wanted to bike through Turkey. They started to talk every day and after 3 months, they met at Izmir (her city in Turkey).
It was summer and they had lots of fun at Izmir but Masaki had to leave for another country as he planned his travels previously. He asked her to wait for him. That was a difficult time but Müge but, as promised, she was waiting for him.
On their first anniversary, Müge went to Japan and met with his friends and family. They celebrated their anniversary at Tokyo Disneyland! Müge will go back to Japan this winter and they hope to not stay apart ever again.
Questions to Her
On Our first date…
Well, when we met the first time we were just friends. We had so much fun together! Soon our feelings changed and for me, our first date was at Natural life park (kind of a Zoo). That day was amazing! We were admiring lots of animals together but secretly I was looking at him ☺ That day I felt the love between us…
During the first months of dating my deal-breaker would be…
The most important thing is being honest in a "long distance relationship". Actually, it is always the most important thing, but in our situation, it is a must.
I learned He is right for me when…
I always felt our love looked like anime. When I met him, I already started to understand that nothing wouldn't be the same anymore. He changed everything in my life. He broke down my walls and my love was becoming more intense day by day. I felt that the same thing happened to him as well. I feel that I can't be without him. I want to learn more about him every second.
I had culture shock when He…
Of course, we had some of them but they weren't a big deal. I learned that Japanese people take bath together with their family members; sisters brothers and parents. For them, this is so normal but in my culture, this is a little bit weird. In my culture taking a bath with your child is okay but that's all haha.
I felt a little bit surprised haha.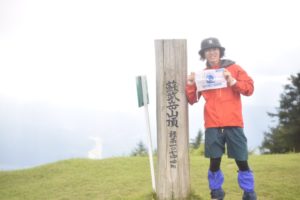 3 things I love about Him are…
I love his pure mind and heart; they are childlike. You can understand his feelings. He can't hide things. He always wants to share his thoughts with me. I love his eyes, especially when he is looking at me. It makes me feel his love wholeheartedly. Usually Japanese don't have green eyes or bright eyes but he has greenish yellow eye color. His eyes are big when he doesn't smile (haha). Also, he is very persistent as he always keeps trying. He doesn't care what other people think about it and he keeps trying anyway. I always feel nervous when I try something for the first time, usually in public, because I would feel bad if I failed. So he tries to make me braver and to believe in myself. He is strong.
The biggest misconception about His country and culture was…
I didn't feel anything like that about his country or culture. Some people say that Japanese can be cold sometimes.
However, when I met him I understood this is so wrong! They are just shy. When you start talking to them they are open up, they are very kind and friendly.
The most beautiful thing He ever did for me was…
One day when he arrived in Turkey to visit me, he wasn't allowed to enter my country. He was forced to stay at the airport and he was told to go back to his country. I was in a panic and so sad about the fact that I could not see him again for a long time. So he tried to convince the security to just see me before he goes back. I went to the airport to see him. I wanted to cry because he came all the way long to see me and he went through so many troubles. But he didn't care. He just smiled at me and said he is really happy.
During this relationship the most important thing I learned about myself was…
that I am not very patient. But when you love someone, you just start to learn how to be more patient. If you are able to be patient then you can hug your partner again. It could be the most amazing feeling you will ever have. I feel so free inside now.
If there is a piece of advice I could give to my fellow Western girlfriends who are into the AMWF relationships that would be…
I know we are so different, starting with our body shape, face shape, culture, the way we act etc. Plenty of things. However, I believe that being different make you learn many things from your relationship. And you will have a lot of fun too!
Long distance relationship is a precious thing because you can learn how to be patient and to understand your feeling well. Then, you can do many beautiful things for your loved ones when the time comes.
So don't be afraid of loving people from different cultures. They love in a different way but I swear, you will feel so special!
Love doesn't have one shape. You cannot put love in a box. Love is free. If you love you want to fly over the ocean, let it go and enjoy this pure love with your partner. Be brave.
Questions to Him
Asking Her out for the first time was…
nerve-wracking. We met in her city for the first time. We didn't ask each other to go out on a date, we just met because we knew each other from the internet. I was so nervous and shy that I couldn't look at her face. Also, I couldn't speak English that time so it made me even more nervous. It was just a nervous day.
I learned She is right for me when…
it was happening day by day. I believe, that if it that happened suddenly, that wouldn't be a good sign.
The important thing is to get closer little by little so I have time to understand she is right for me. I still want to learn more about her and with her. My feelings towards her are true.
I had culture shock when She….
well, when I came to Turkey for one month I wanted to stay with her. But in her culture, the couples can't live together before the engagement or marriage. I was shocked that time because in Japan it's a normal thing to live together before marriage.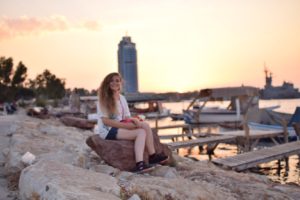 3 things I love about Her are…
with her, I don't need to hide my childish side and I don't need to hide my passions.
I love her kindness. She takes care of me. She always replies so fast to my messages and uses emoji a lot. She puts an effort to improve herself and her life.  She always tries to become better for me.
The biggest misconception about Her country and culture was…
that Turkey is dangerous and not safe. Before I went to Turkey, people said not to go there because it wasn't safe. People don't really know about Turkey and that's why they are afraid of it.
Turkish people are really kind and especially very friendly toward Japanese. Firstly, I thought they were just acting friendly because they wanted some money or something else in return. But then I discovered they don't want anything back from you. They are doing that for no specific reason.
The things that She likes to do for fun with me are…
when we can talk that's the happiest time to me. It's really important. When she tries new things with me and she succeeds she has so much fun! I am adventurous and I like to try many different things, and she will eventually do them with me.
She hates when I…
do something dangerous during my travels. She always worries me when we are not together.
During this relationship the most important thing I learned about myself was…
I still learning about myself. Maybe the most important thing is to be able to share feelings with other people.
In Japan, we don't hug each other because of shyness. However, I learned to be more friendly and to not hide my feelings.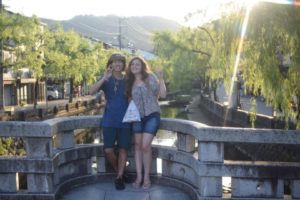 If there is a piece of advice I could give to my fellow Asian friends who are into the AMWF relationships that would be…
Japanese think it is hard to go out with Western women. It's wrong, I believe Asian people and other people are the same. We are all humans, however somehow, Japanese think Europeans are not interested in them. That they are "not enough".
I also thought in that way, but after traveling, I think that some women would like to have Asians as their partners. I hope that Asian people will learn from this and believe in themselves more. Do something, get ready and just go. And even if you fail once or twice you will just learn something new about the world, and about yourself. Learning is the most important experience in life no matter if this is a good or a bad thing happening to you.
Love the interview with Müge and Masaki? That's cool. Now, you can follow their adventures on Instagram!