The story of Nastya & Dima
After 2 years of chatting on Skype and Agent (another chat) we met on September 2012 in my hometown – Baranovichy. Dima left his well-paid job, left his family, took one suitcase with clothes and bought a one-way ticket. In my country, he did not have any friends except me. We started from the scratch. My husband is from Tashkent, Uzbekistan (but he is of Korean origin) and I am from Baranovichy, Belarus. We live in Minsk.
Questions to Her
On Our first date…
At this special date, I gather together all my relatives to introduced my boyfriend to them. Unfortunately, my father was against our relationship. That's why the next month I came to Minsk to join my love, where we rented a flat. It was a very difficult time for us, but we overcame it.
I learned He is right for me when…
I had a really difficult time in my life. Before I knew Dima I had a bad and a very difficult relationship with another Korean guy. I was so disappointed in guys in general. Dima gave me support in long distance. With Dima, I suddenly felt so much better. I found the meaning in life and became the happiest girl in the world. That's why I chose him. Someone told us that we became so similar in terms of a character, habits but also in appearance! (the last one made me laugh).
I had culture shock when he…
First, he does not eat Korean food, just Uzbek or European. Second, when he came to Belarus for the first time, he bought a lot of souvenirs for me and my parents. Later, he told me that this is the way to show respect for other people in his culture. Another shock was when we spoke about starting a family and he told me that when we got married, I could leave my last name, but our children would get his name.
3 things I love about Him are…
He is the most clever guy I know. He speaks Russian fluently with my friends and shares knowledge about the Korean history.  Also, he is a man with a big heart, who helps people in the different situations. He is so romantic and every time he tries to surprise me. He buys me a bouquet of flowers for no reason.
The biggest misconception about His country or culture was…
that the guys should marry only the girls from their country. But in the country he was born, it's normal to have international relationships. In my hometown, Baranovichy it's shocking! People look unkindly at the international couples. Because of that, we had some difficulties at the beginning of the relationship, but now we are not paying attention to it.
The most beautiful thing He ever did for me was…
He prepared delicious breakfasts for me and my sister when we were visiting her in Brest. It was unforgettable.
Also, last winter he asked me to marry him. We have been living for 5 years already. My mother-in-law advised Dima to buy a beautiful diamond ring for me, which he certainly did. It was an amazing gift and  I obviously accepted the proposal. I wanted to thank my mother-in-law for giving me the best man in my life, so we decided to surprise her! On her birthday we signed in at the registry office, and I called Ludmila (Dima's mother) to tell her that I had changed the name and that I was "Kim Anastasiya". It was one of the best B-day surprises she has ever got.
During this relationship, the most important thing I learned about myself was that…
nobody is perfect. Together you can become better though. Stronger and more clever. I was so thankful for the difficulties, that made me stronger; I became a person, who could learn a lesson from the challenging situations. Now, I understand what is a real love. My man supports my craziest ideas and we can make them happen together. With Dima, I sometimes feel like a child, because I am able to express my real feelings.
If there is a piece of advice I could give to my fellow Western girlfriends who are into the AMWF relationships that would be…
try to live happier together, every day. Together you can make your relationship stronger, which will help you in overcoming all difficulties that you face in life. A real love makes miracles.
Questions to Him
Asking Her out for the first time was…
well, first I asked her to send me her photos, I was so eager to see her! I heard, that Belarusian girls are the prettiest in the world. Despite the long distance, I was imagining how I would be hugging her at our first meeting in Belarus. She became my angel.
I learned She is right for me when…
I saw her in Belarus. She was the prettiest girl with the most beautiful smile I have ever seen.
I had culture shock when She…
got upset when her father was against our relationship. I promised her that I would solve that problem myself one and I have managed to do it.
3 things I love about Her are…
She is an open-minded and a very kind person. She loves animals, especially the homeless ones. When we were finding stray cats or dogs, she was leaving me with them and run to buy food for them. Also, my wife is a genuine and helpful person, taking care of people in need.
She is my Go-Giver, who gave me a real love and support in various situations. Especially when I missed MY FAMILY. My little angel makes me laugh and smile when I face difficulties. I love her so much.
The biggest misconception about Her country and culture was…
when people mistake me for an Uzbek. Yes, I was born in Uzbekistan, but I have Korean origins.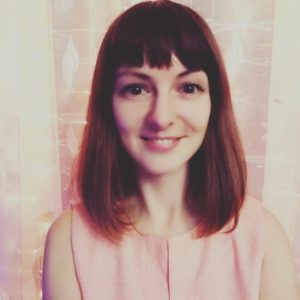 The things that She likes to do for fun with me are…
she finds out what I love and then she surprises me with a gift. I was so surprised and confused because my ex-girlfriend never gave me gifts. But my wife is different. It's difficult for me to explain how much I love her. I thank God for her.
She hates when I …
do not share my experiences with her.
During this relationship the most important thing I learned about myself was…
to be more self-reliant, not to depend on anyone.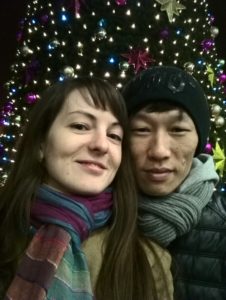 If there is a piece of advice I could give to my fellow Asian friends who are into the AMWF relationships that would be…
if you want to be happy, be pro-active. Take the first step to start the relationship. Show her, that you really love her. Be the conqueror! Of course, you will still go through difficult times even in the relationship, but together you can be stronger.
Love the interview with this beautiful couple? Follow them on Instagram!