The story of Kiara and Pasang
Kiara and Pasang met through mutual friends. Two years ago he decided to contact her through one of the chat apps. They were both living in Belgium. She was a Marketing Student in Brussels and he was working and living in Antwerp, another city in the North of the country. She was born and raised in Belgium while he settled down in the country a few years ago when he was 20. After 3 weeks of chatting, they finally decided to meet in a nightclub located in his city. They have now been officially together for 7 months and already have many dreams and projects together. Indeed, for 1 year and a half, they were loving each other but they had no occasion to make their relationship real as Kiara went to study in South Korea and as he was busy with his job. Now they found the perfect moment to build a strong relationship. They meet every weekend in each other's city. They have already traveled to Thailand after 2 months of a relationship and now they plan to explore many more countries and live together in the near future.
Questions to Her
On Our first date…
We went to a party to a famous nightclub of his city. I don't know if we can really call it a date as it was a quite unusual way to meet for the first time. Indeed, I came there with 3 of my friends and I was already tipsy when I first saw him, ready to party hard! He was waiting for us in an Asian bar and offered us drinks before heading to the club. I was a bit shy at the beginning so I actually let my friends talk with him. After a few drinks, I finally dared to jump into his arms and express my feelings. That time his face became totally red as he was, in fact, the shyest of both of us. But I know he was so happy, and so was I…
During the first months of dating my deal-breaker would be…
That he would not have deep feelings for me or would consider me as just a girlfriend for a while, a girl to have fun with. That he would not consider building a strong relationship with me.
I learned He is right for me when…
I injured my leg and couldn't walk for a few weeks. That time I could see how much caring and patient he was, nearly like a nurse: helping me to dress up, bringing me food and flowers in my room and even taking some days off to keep me company. That time I could feel how loving, reliable and sincere he was and I started believing he would never let me down.
I had culture shock when…
I was about to kill a spider I found in my kitchen. That time he held back my arm and told me not to do that. I told him that I was scared of it and that it had to die. He replied that it was a living being like any other and that it was not hurting anyone. He took the spider and threw it in the garden. As a Buddhist, he was taught that every living being should be treated equally. Since then, even though I have a phobia of spiders, I try my best to ignore them and let them live…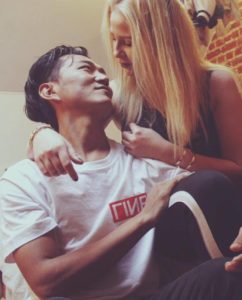 3 things I love about Him are…
I love the way he expresses his feelings and opens his heart to me. He is not scared to show me his love with actions but also to express it with beautiful words. He tells me I'm beautiful every day and he doesn't know how much it actually makes me happy, even when I don't believe him. I also love his shyness and clumsiness. I find it very cute, charming and it always makes my heart melt. My third favorite thing is his incredibly soft hair and smooth skin…
The biggest misconception about His country and culture was…
Well, Pasang is of Tibetan origins. Tibet is a big region of Western China and its rich culture is just amazing to me. I have always had a passion for different Asian countries and Tibetan culture has always been one of my favorite. The thing is that I haven't got the opportunity yet to visit his region. Indeed I went to China twice and visited many places but didn't go to Tibet. So I can't really share any misconception about it…However Pasang and I plan to travel there as soon as possible, this is our biggest dream.
The most beautiful thing He ever did for me was…
It was during our Holidays in Thailand. That night he told me "let's go outside, I will bring you somewhere different". That time I noticed he took an unusually big bag for a simple night out but I said nothing. Then he took me on the motorbike and rode in the dark night for nearly 30 minutes. Then we arrived on an empty beach, far from the city crowd and he put a towel on the sand to let me sit down. He had also brought a blanket, a speaker to put my favorite songs and some beers. It was so simple but also so romantic. We spent the night talking and watching the night sky and it is one of my best memories I had with him…
During this relationship the most important thing I learned about myself was…
to be happy, I needed to be with someone that gives me dreams. Being with someone from another culture brings me joy and motivation as we can learn many things every day and share our different opinions and views. It's really inspiring. I learned how precious it is for me be with someone really different and to be able to build something together.
If there is a piece of advice I could give to my fellow Western girlfriends who are into the AMWF relationships that would be…
Tolerance and respect are the keys. Even if it is about your partner and you are really close to each other, it is still essential to respect each other's differences. Dating someone from another culture means accepting every part of it with love and patience. Sometimes, even after many years together you have to face misunderstandings and this is normal. I think you should never try to change him. On the contrary, you should embrace his differences and love them for what they are. After all, this is also a reason why you chose him and not another one.
Questions to Him
Asking Her out for the first time was…
Well, for our first date we decided together where and when we should meet so I was not so nervous. But once I had to meet her in real, I became very anxious. Especially because that time she came with her friends and because I was not used to going to nightclubs. I was blushing so much and we didn't dare to talk directly to each other at the beginning. Fortunately, after a while, I lost my shyness and we spent the whole night dancing and hugging like we had known each other for many years.
I learned She is right for me when…
she introduced me first to all her close friends, then to her family. She was really happy to make me meet them, without being shy or anxious. Actually that time I was feeling really shy but she gave me the confidence to do it. That time I could feel that I was important to her and that she wanted to make her life with me…It made me really proud and happy.
I had culture shock when She….
first invited me to a dinner with her family. It was actually the first time in my life I had dinner with only European people. So it gave me lots of stress as I was thinking I had to eat that way, sit that way, hold my fork and knife that way…It even made me sweat! But she tried to reassure me by telling me that no one was judging me or paying attention to my manners. And truly, her family is really sweet, easy going and open-minded.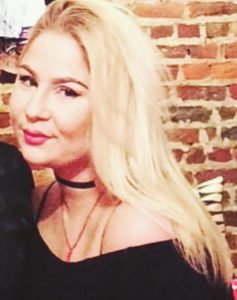 3 things I love about Her are…
I love her smile and the way she laughs for anything. She is a very funny girl while I'm a more serious guy…but I love this joker side of her very much. I love the way she is curious about my country and my culture. She loves to learn many things and she always listens attentively to what I say with a big interest and respect. The last thing I love the most is her sparkling eyes, I really love to see myself in them.
The biggest misconception about Her country and culture was…
Before I arrived in Belgium I had thought that European countries were so clean, so safe, so peaceful with only "white people" living there. I thought it was looking like on the postcards pictures: so perfect and idyllic. Of course, it was a totally wrong conception but I learned to love all aspects of Belgium. I especially love the great cultural diversity of this country.
The things that She likes to do for fun with me are…
We both love walking very much. We love going anywhere by foot, so every weekend we go exploring new places in the city for a walk. We also love trying new foods. Every time we meet we try a restaurant from a different country. She also enjoys watching action movies with me. Normally she doesn't like it but as she knows I enjoy it so much I think she enjoys it too! When I play football tournaments she also loves coming to watch me playing and support me.
She hates when I…
She is upset when I always let her choose where she wants to go or what she wants to eat. She says I also have to make choices and impose my decisions. But for me, in my culture, when you love a girl you have to let her choose what she likes. It is the sign that you care and that you want your partner to be happy.
During this relationship the most important thing I learned about myself was…
I learned a lot about myself. Opening my heart to her let me also open my heart to myself and made me able to understand my own feelings better. She gave me more confidence in myself but also in my future. She made me stronger and feel like I deserve to know the meaning of real love.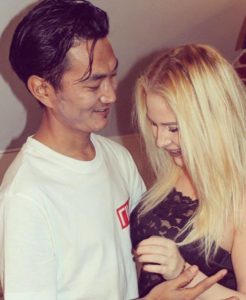 If there is a piece of advice I could give to my fellow Asian friends who are into the AMWF relationships that would be…
Be patient. Always be patient. Especially if your girlfriend is not used to being patient as you are. By your calm and inner peace, you will slowly teach her to see life differently and to accept things with more wisdom. Don't get offended if she gets easily nervous, upset or disappointed. Sometimes she will misunderstand your actions, thinking that your calm and silence are a way to ignore her. But at the end, she will understand that you do it all to make her happy and more peaceful.
Love the interview with Kiara & Pasang? Follow them on Instagram 🙂