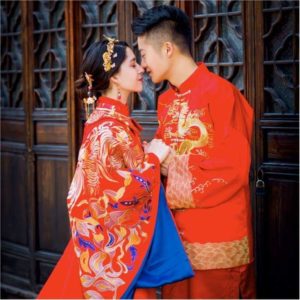 Missen and Krystel met at InterContinental Marseille Hotel Dieu in Marseille, south of France. Marseille is Krystel's hometown; she was working in InterContinental for quite 2 months when Missen came to start his internship in the same department as her. The first time they were introduced, they experienced a love at first sight. However, the future was uncertain for both of them so they did not give it a try. Krystel went to Paris to start again her studies in Japanese language and Missen stayed in Marseille to continue his internship. Krystel asked Missen's phone number before leaving and called him 2 weeks later. Then the Paris' terrorist attack…Missen understood he couldn't live without her and came to Paris on November 20th, 2015 to start their relationship. Missen had to go back to China because he could not stay in France due to the visa issues. This was when Krystel decided to follow him. They have been married for more than 1 year because, as they say, there is no need to wait when your heart knows the second person is the one since the beginning. They live in Shanghai with their little ginger cat Mushu.
Questions to Her
On Our first date…
I came back to Marseille to see him. Few hours before our date, I was hanging out with some friends. He came to pick me up and one of my friends, as a joke, told me "Take Care Krys!" He was so confused that after he asked me why my friend had said that. We drunk a couple of drinks on a terrace and when I paid the bill, that's made him even more confused! Afterward, we had dinner in a Chinese restaurant. We became a couple one month later.
During the first months of dating my deal-breaker would be…
My deal-breaker would be him to not be serious and start this relationship just for fun. At that time I was 24 and just over from a relationship which lasted 3 years. I wanted to find someone with whom I can build my future, someone to have a family with. I told him that at the very beginning of the relationship and luckily he shared the same thoughts. 
I learned He is right for me when…
I knew it right away. I know it sounds crazy but when our eyes met I knew it would change my life. I was so scared to see him leaving back to China and be separated. I knew he was the right for me because he made me trust in myself. I've always been in the relationship where I was being put down and all I've done was never good enough. But Missen always supported me, my choices, who I wanted to be, what I wanted to accomplish. I always believed in me. When I started seeing him I had no money, no job, no house (I went back to my grandma's place). I sell my own things to have pocket money and go out with him. I've always been independent and I didn't want to show him how bad this period was for me. When I told him, we were together for 2 months, and he wasn't scared and didn't leave. Even more, he was furious because he didn't understand "Why the love of my life is suffering so much and didn't ask her husband for help". For me, it was everything. He proposed to me instead of showing me his back.
I had a cultural shock when He…
Maybe it will be no fun for you but we never had a cultural shock. Missen lived for 3 years in France when we met and I've always been interested in Asian culture so we didn't have a big cultural shock.
3 things I love about Him are…
He is determined

. I've always been a person who is giving up. Maybe not give up but adjust my wishes. He isn't like that at all. When he wants something he will do everything to have it, no matter it takes time, no matter it's hard, no matter he needs to do it another way he will do his best to achieve it. It makes me really proud and because he is like that now I also don't give up easily.

He is truth-worthy

. I know I can trust him and he has a sense of responsibility. All the people I met before couldn't be trusted. When he speaks or do something he really means it and it feels so good to trust somebody and know that you won't be hurt or regret it.
He understands me. He always tries to know how I feel and to understand my feelings. Instead of telling me "no", he will always try to understand. If he doesn't think the same way he will make me understand why and try to find a solution.  
(a bonus one)

When he is dancing!

He used to dance when he was in middle school and do some "popping" dance. He always makes me fond when he is doing that and makes me say "That's my man!"
The biggest misconception about His country and culture was…
I knew nothing about China! I was interested in Korea and I wanted to have a Korean husband, not a Chinese one! In France, we don't really know the Chinese culture. Oh no sorry, we know Mao and "Chinese people eat dogs"! China doesn't have a good reputation. But I fell in love with a Chinese and he told me "It's a destiny you can't choose"!  I started to learn some Mandarin to please him but the first time I went to China to see him my head was like "I really don't want to go there! Why a Chinese?!" Then I totally fell in love with the country and the culture! Such a wonderful and misunderstood country! Since then I started a website "Une Occidentale en Chine" (a Westerner in China) where I talk about Chinese culture, my life in China and my Franco-Chinese wedding. This website is for French people who love China, who lives (lived) there to recognize themselves. And even more for French people who don't realize, like me before, how much China is an amazing country who deserves more than nasty reputation because China is definitely more!
The most beautiful thing He ever did for me was…
The most beautiful thing was to choose me as his wife. It's such a chance for me to have this incredible man as a husband who supports me and believe in me like no one does before and so did I! My husband didn't want to go back to China, he had no chance to stay in France before but he didn't want to go back and did it for me because I always wanted to live in an Asian country. So to make me happy he went back even if going back means work hard, bad salary, social pressure, family pressure…
During this relationship the most important thing I learned about myself was…
I learned that I deserve the right to be happy and to be loved for who I am and not somebody who loves me for who he wants me to be. I've seen my grandma and grandpa be in love during all their lives, a real true love that I wished I could have someday. Now I finally have the chance to be like them and say one day to my grandchildren "Your grandparents were really in love and this kind of love is worth fighting for".
If there is a piece of advice I could give to my fellow Western girlfriends who are into the AMWF relationships that would be…
Follow your heart because your heart has no nationality and no culture. Love is love. You will be in difficult situations sometimes because, of course, we aren't the same. But if in all that you can still find each other's heart this will be the more precious than anything. Our relationships are so special, no one else than us can understand the beauty of it. The beauty of not being the same and not thinking the same way. Thanks to that, we can adjust themselves, make our vision and our heart growing and become more tolerant. Since I'm in this relationship I clearly feel I'm a better person, more patient and more understanding. Instead of saying "No I can't stand it", I try to understand the reason why and try to accept it more like I want him to do for my Westerner thinking.
Questions to Him
Asking Her out for the first time was…
It was exciting and I felt fulfilled! I asked her many times to go out and she refused, she even didn't want to give me her phone number! But, months after, she finally said yes and I felt very happy. The date was very pleasant.
I learned She is right for me when…
I knew she was the right for me when she decided to join me in China. I was shocked that somebody could come with me in my country without family or job here. I knew if she was coming with me in China it meant that I was important for her and that made me realize she was the one for me. I knew since I met her the first time she was the right one but I wasn't confident enough at that time.
I had a cultural shock when She…
I didn't have a cultural shock because I lived in France for 3 years at that point and had many French friends so I was "used to" the French manner and way of life.
3 things I love about Her are…
There are plenty but ok let's do it with 3. The first one is her mentality and the way she is living. She dares to do things that I don't dare to do myself, I want to do but I can't. Second, she is sensitive and has a kind heart. The third one is that she is a frank and direct person. I don't have to think too much because I know we can talk about everything.
The biggest misconception about Her country and culture was…
I will not say "misconception" but differences and to be honest I don't see any from my part. Maybe some small details but I can't remember.
The things that She likes to do for fun with me are…
Everything. I know it's very simple but I have no other word as we have a lot of fun together on everything and every topic.
She hates when I…
She hates when I make noise when I eat. Because in China, making noise during our meals means that it's a good meal and that we enjoy it. But in France, it's a very bad thing and she can't bear it at all!
During this relationship the most important thing I learned about myself was…
I became more responsible. I realize how it was to really care about someone and really love that woman. That this love could make me do anything for her as she is my family. I want to be responsible for our family.
If there is a piece of advice I could give to my fellow Asian friends who are into the AMWF relationships that would be…
Be more romantic and surprise her. Even small surprises can make her feel happy and feel your love. Take more time to be with her to make her see how much she means to you. I know, as an Asian man, that when we are married and we work hard we can be less focused on our wife or girlfriend. We need to earn money and we have a lot of pressure from the society. But that's a mistake because they need us to show them our affection as well. We need to show our affection with acts and not with the money we can earn. If you make her feel this way, you will have the most supporting and caring woman you can ever have.
If you want to know more about this couple check out their Instagram.