The story of Johnny and Lada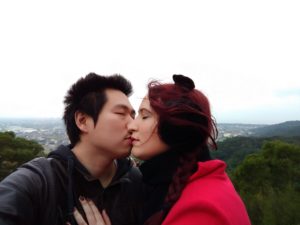 Lada and Johnny met in the coastal town of Sochi in Russia. Lada came there from her hometown and Johnny came from America, where he had been studying at that time. Both of them stayed at the same hostel and since both of them were traveling alone, they began chatting with each other and spending time with each other. Gradually their feelings bloomed. But in just a few days Lada had to go back to her hometown and Johnny was supposed to go to Moscow and then later come back to America but instead, he decided to take a risk. He canceled all his tickets and bought a ticket to Lada's hometown instead. That was the beginning of it and after two and a half years of long distance relationships, they were finally able to get married. These days they live together in Taiwan with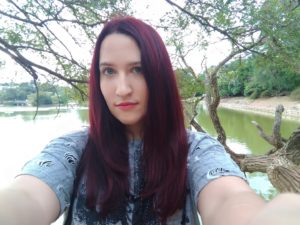 their cat Aki and feel happier than ever.
Questions to Her
On Our first date…
It's hard to say what to consider our first date because he didn't really officially asked me out. We were spending time together as friends and then it quickly changed into something bigger than that. That day I was supposed to leave Sochi and go back to my hometown and we decided to take a last dip in the sea. As I was floating on the sea surface with my eyes closed, he suddenly kissed me. And I must say, at that time I didn't have much experience with men  – I never dated a guy, so I didn't get to experience everything that went along with it. That's why when he kissed me, I was so shocked, I almost drowned! My heart was beating like crazy and I barely made it out back to the beach! Later that day we went to have dinner together and that could be considered a date already. At that moment I still didn't think much of it cause I thought we're both leaving anyway, we live in different countries, so what future could we possibly have?
During the first months of dating my deal-breaker would be…
It's hard to name just one thing, because I usually perceive people as a whole, as a combination of their personality traits. And as such, this person is either good for me or bad for me (but it doesn't mean he's bad in general – just not right for me). If I have to choose one, I would say being narrow-minded in the sense of being negative towards people who are different than him or towards things that he doesn't understand. This kind of negativity is not something I want to be around.
I learned He is right for me when…
I would like to say that it happened when he canceled all his plans and followed me to my city, but at that time I was more shocked than excited. After all, we only knew each other for a few days and I still wasn't convinced our relationships could have a future. But when he came to visit me the second time, we decided to rent a flat and try living together. I was very worried about it cause I am an introverted person and I need my space, so it was hard to imagine being around another person 24/7, having to give them all your attention, not being able to be alone much etc. To my surprise, when we started living together, I realized I felt more comfortable than ever. Being together all the time didn't cause me any discomfort, because with him I could just be myself and feel at ease – I didn't have to make sacrifices or give up on things. On the contrary, even in short moments when I was alone (taking a bath, for instance), I felt like I wanted him to be there with me. And that's when I realized that I could see us spending our whole life together like this.
I had a cultural shock when He…
I was actually surprised that even though we grew up in different cultures, we had so much in common! Well, there's one thing I can think of which surprised me, but I suspect it's more of a personality thing than a cultural thing. You see, Russian men often don't want to get married and even seem afraid of it, so it's usually a woman who brings up the topic of marriage after she becomes too tired of waiting and she often literally has to pressure her man into marriage. As for me, I never dreamed of getting married as some girls do (I dreamed of finding the right person). I was actually afraid of marriage myself, so I never brought it up to Johnny. I was really surprised when he brought it up first. I was hesitant saying "Oh, I don't know about it…" but he kept talking about it casually mentioning stuff like "When we get married…" etc, and I gradually got convinced that it was the right thing to do. But the funny thing is that when I mentioned to my Russian male acquaintance that Johnny proposed to me, he seemed so surprised and was like "Oh wow! How did you make him propose to you?" and couldn't believe when I said I didn't and that was Johnny's initiative from the very beginning.
3 things I love about Him are…
Again, it's hard to only name three things, because there are so many things I love about him and it's hard to decide what is more important and what is less. But if I have to come up with just three…
He's very understanding and not afraid to talk about feelings.

Again, Russian men usually don't like talking about feelings, because they think it's not "manly". They prefer to show their feelings through actions, which is great, but sometimes we, girls, want to hear it, too. And it's important to talk not only about positive things: if there's negativity, it's better to address it than just keep it all inside. In our case, since we had long distance relationships for two and a half years, if we weren't able to communicate well, there is no way that it would work out. And luckily, Johnny seems to be really good at it and also really good at understanding female feelings – not downplaying them and saying stuff like "Why are you upset about such trifles?" etc. but really trying to understand what bothers me and what I feel.

He's very accepting. When I'm with him I don't have to be perfect 100% of the time

, I don't have to be careful about what I say or do for fear of looking silly or weird. Whatever I can say or think to myself, I can also say to him. I can behave silly and he won't find it off-putting or annoying. I can just be myself.
He's very caring. He doesn't have to say how much he cares about me because I can see it in every little thing he does: carrying heavy things for me, making sure I'm not too cold or hot, pouring my drinks, squeezing lemon on my food, so that I don't have to get my hands dirty, holding my hand on uneven terrain to make sure I don't trip and fall down… And none of this is done in a demonstrative way, like "Look at me, I'm such a gentleman!", it just comes naturally. And if I feel bad physically or mentally, he'll never leave it at that – he'll always try to find a way to make me feel better and to help me solve whatever problems I might have. I never thought someone could ever love me so much and I still can't believe it sometimes!
The biggest misconception about His country and culture was…
I can't say I knew much about Taiwan before I came there. But I was interested in Asian culture in general, so nothing really shocked me. Still, when I was about to move to Taiwan for good, I kept telling people "Yes, I know, it'll be hard at first and I'll probably need time to adapt…" etc. But in reality I didn't need to adapt much, I started feeling at home almost immediately. Of course, this is mostly thanks to Johnny – I'm sure if I moved to Taiwan alone, it would be much harder for me. People also told me "You don't know if his family will accept you-you're a foreigner after all. Besides, they have their own traditions and they'll expect you to follow them, they might have very high requirements for you" etc. In reality, everyone in Johnny's family was very nice to me and I saw nothing but love from them.
The most beautiful thing He ever did for me was…
Him following me to my city at the very beginning. After all, if he didn't do it, none of this would probably happen and we wouldn't be where we are now. But in general there are so many beautiful things: big and small, it's hard to remember all of them. Every day spent with him is memorable. I remember one day when I felt particularly depressed and lonely. It was late at night and I felt so bad: physically and mentally… I told him all of that and he just said "Do you want me to drive you somewhere?", I said "But it's so late… Where would we possibly go?" But he said, "Nevermind, just get in the car!" and then we drove to a nearby lake. It was such a beautiful night – quiet with barely any people around and with the moon reflecting in the water. We just quietly walked around the lake and with every step I took, I felt more and more rejuvenated and ready for whatever future holds. This might not seem like a big thing, but it did matter a lot to me at the time.
During this relationship the most important thing I learned about myself was…
That I am worth being loved. Before I thought I wasn't beautiful enough, I wasn't interesting enough, I wasn't good enough, that's why no one ever loved me or could ever love me. When Johnny just appeared in my life and kept showing me all this love, I was still doubtful and thinking, "Can he really love me? Or is it just a temporary thing and soon he'll know me better and won't want to stay with me?" and then I also asked myself "But why does he love me so much? I'm not special, I'm not better than others… Then why?" But every time he saw me doubting myself, he would always support me and never get tired of trying to encourage me. I think only after he showed love to me, I eventually learned to love myself as well and feel more confident. I still don't think I'm a super great person or that I'm so much better than others, but knowing there's someone in the world who loves me so much makes me think that yes, I guess, I am worth something, after all.
If there is a piece of advice I could give to my fellow Western girlfriends who are into the AMWF relationships that would be…
You shouldn't think that because this person is of another race and lives in another country, that he's some kind of an alien. It doesn't matter what country and what culture we come from – after all, we are all humans and this is much bigger than any differences we might have. At the core of it, we have similar feelings, similar thoughts, similar fears and similar insecurities. You might be surprised how much in common you might have with someone from a country or a culture completely different than yours! So, you shouldn't just see your boyfriend as Asian or as whatever nationality he is, but see him as a person first and treat him as a person. And whatever differences or peculiarities he might have, just think of them as something new and exciting for you to explore. After all, now your life will never be boring and monotonous!
And communicate. This is important in any relationships, but in AMWF relationships it is particularly important. If you don't understand why he's doing what he's doing, if something bothers you, don't hide it and don't ask advice from your friends – just talk to him! It might be much less of a problem than you initially thought and a lot of misunderstandings can be cleared up just by talking to each other.
Questions to Him
Asking Her out for the first time was…
It was in Sochi, Russia. At this point, we were still fellow travelers who encountered each other only a few days back. We went on excursions together just a day before and had some fun, but it had not yet developed into anything more than friendship. The first time asking her out…well neither of us knew what to expect, since we found each other attractive, and wanted to spend more time together. It was as simple as that. However, when we were relaxing together at the beach it came to me that I actually wanted to start dating her, despite all odds indicating that the relationship might not blossom. The reason being that we had nothing in common, no plans together, nothing whatsoever – we were still strangers. So the day turned into a date, as I kissed her and confessed my feelings toward her at the beach when we were swimming together in the Black Sea. I followed my intuition and abandoned my logical brain.
I learned She is right for me when…
Days later I took a big risk of following her to her own city, Rostov-on-Don. I didn't know what to expect because I was gambling with my money and my life in a new foreign city and foreign land. Just days before that happened, she went back to her city as we kissed each other goodbye in Sochi train station. That night I got drunk on vodka in the hotel canceling my flight back to Moscow, which was my original plan. Going to Rostov I had everything to lose, but I was convincing myself that I had nothing to lose, and everything was worth a gamble for just seeing her once more. When she accepted to meet me once more and treated me with warmth, that's when I knew she was right for me. It felt real and unbelievable. With time through long distance relationships, I slowly learned more about her and decided that we should get married. The biggest motive is that I wanted to spend the rest of my life with this person, who is so kind-hearted, who is so real, and who can love me with all her heart no matter what.
I had a cultural shock when She…
My cultural shock came from getting used to the environment there in Russia. Forget about Moscow, Saint-Petersburg, and Sochi as they are all touristy places. Rostov-on-Don is the real Russia, where things were not designed amiably… haha, let's put it that way. I had to be in full survival mode relying on my poorly learned Russian for the majority of the time. Of course, through time I relied more and more on Lada, but at the beginning as a guy, I still had some issues with totally relying on a woman. It was hard for me to protect her when she was mostly the one who was capable of solving situations for me in Russia. Fortunately, we never faced any serious situation with street thugs or anything of that sort.
Dealing with Lada's grandfather was a cultural shock for me. He was everything a strong traditional rough Russian man is. I found out that I needed to be mentally prepared every time I interacted with him. I needed to be prepared with a lot of alcohol drinking, a lot of criticism on contemporary topics, and sometimes doing some work around the house. In the end, it was alright, I got to know him more, and once with understanding everything was easier.
3 things I love about Her are…
Haha, this is an incredibly hard question, since I never thought about it. I love her as everything she already is. But if I am to squeeze three attributes out of my head, I think of:
I love her looks and her personality. Everything is right for my taste.

I am impressed by how adventurous she is, and so it matched my occasionally wild mind too. It's perfect.

I love how simple everything is. Our communication is on point, fast and efficient. Being around her is about the most effortless thing in the world. It's pure pleasure to be around her.
The biggest misconception about Her country and culture was…
People in Russia are not evil. The Western media did a very thorough job of portraying Russians as villains. In fact, Russians are in general very respectful and welcoming. I never encountered racism in Russia too. Most Russians are just simple people living a happy life regardless of the overall economic climate. Some Russians are vodka drinkers, but it is unfair to make generalizations that every Russian person drinks vodka. Lada, for instance, doesn't like vodka at all.
The things that She likes to do for fun with me are…
We like adventures. We love to travel around Taiwan in the car and discover interesting things. We also enjoy supporting the LGBT community in Taiwan while having fun attending drag shows. On a daily basis, we also enjoy teasing our home cat – Aki. We love a free simple life just with two of us doing whatever we want. We want to travel the world together as explorers too, to some new places both of us never been before, preferably somewhere desolate and beautiful.
She hates when I…
A few times I lost my temper because of some ridiculous things. When I lost my anger control, she would feel scared and disappointed. My anger is my biggest enemy. Apart from that, she also doesn't appreciate that I work late without warning her beforehand.
During this relationship the most important thing I learned about myself was…
Internally I am not perfect, I still have areas I need to improve so that I can be better for her. Balancing between work and pleasure is also a lifelong lesson I am continuously learning. In Taiwan, it seems that either you sacrifice time spent with your partner, or you sacrifice earning a good salary. Either way though, I learned that the best thing I have in life is Lada and that if she is happy, I am happy.
If there is a piece of advice I could give to my fellow Asian friends who are into the AMWF relationships that would be…
Go for it, man! Follow your intuition, and if your intuition is weak against your logical brain, then indulge it to take over your brain. Train yourself to follow your intuition and don't resist desire! When you are clear about what you love about your woman, you kind of know deep down what kind of girl you are looking for. Once all this is clear, you are no longer handicapping your chance against trying to get your girl. Only at this point then can you start to strategize how to get her to like you. During this process, you will know yourself better, which is very important, because you have to know yourself well in order to be confident about your own existence, which can, in turn, show confidence to the girl you love. Confidence is crucial for developing relationships.
Don't force anything on her, unless you are absolutely sure that she wants you to take it to the next level. Don't force yourself on her, because if you love her, putting yourself out there for her should be totally voluntary, not forced. If you do everything right, you can probably get her to like you, but to get her to love you is completely out of your control. It's in the hands of fate, so it's not your fault if she doesn't love you back. Just know that no matter what, there is someone waiting for you and that current situation only proves that there is someone better waiting for you. Sometimes life just designs challenging situations to educate you, to prepare you better when the right woman comes, you will be all ready to be the man she needs.
If you are an Asian guy like me who isn't born in and used to foreign cultures, then you better get far far away from your comfort zone and start learning about foreign cultures. If foreign cultures interest you, then it's a good sign. If learning foreign cultures is tedious for you, then it's a sign that perhaps you are not really ready for having a relationship with a foreigner. Because if your girl is a foreigner, it's likely down the line you still need to learn about her culture and be an open-minded person in essence. There will be sacrifices, it's not all easy. With a strong love though, everything can be dealt with: the distance and the bureaucracy between countries won't stop you from loving her.