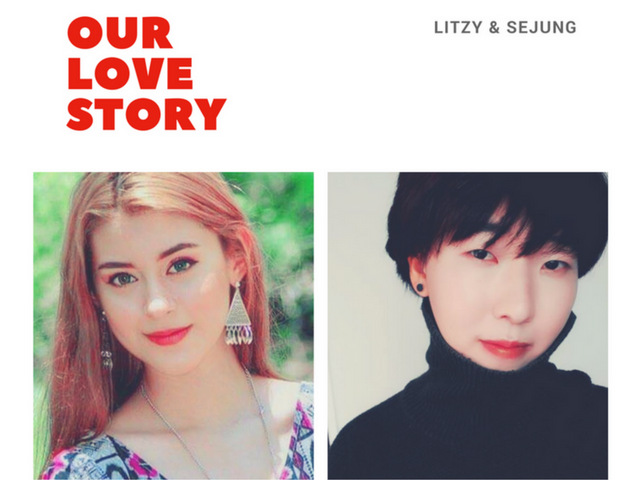 The story of Sejung and Litzy
Sejung (South Korea) and Litzy (Mexico) met in 2014 on a website named "Interpals". They started chatting, getting to know each other and when the right moment came, they exchanged social media profiles such as Facebook, Kakaotalk, and Skype. The 5th of July 2014, they both accepted to be in a Long Distance Relationship and it was in their first year of the anniversary that they met.
Sejung flew all over the world on July 3rd of 2015 just to meet Litzy in Mexico, and he went back to South Korea 10 days later. They had to wait one more year to see each other again on the Valentine's Day. Later on, Sejung had to do his Military Service which is obligatory in South Korea. Two years have passed since then and now in 2018 they both are waiting and counting the days for July 18th to come when they see each other one more time. This time Sejung will stay in for 6 months and he's already preparing for that, studying Spanish every day and saving up money. They're going to marry in the near future as Sejung prepares to move to Mexico for work.
Questions to Her
On our first date…
We went to "Peter Piper Pizza" where you can eat pizza and play arcade games. It was fun being able to have a date like that but it was also quite embarrassing because I was 16 years old (I'm 20 now) so my mom was there! And we both felt super shy in some occasions hahaha. My mother was really curious about him so she was with us most of the time. Thankfully the second time he came it wasn't that way haha.
During the first months of dating my deal-breaker would be…
I have always hated narcissist, egocentric people. So having an extremely large ego would be a huge problem to me. Talking about himself way too much, being extremely loud or having no social manners are sort of things that I hate the most. Thankfully, he's not like that at all.
I learned He is right for me when…
The moment he came to see me I knew I won the jackpot. But the day I knew he was the right for me, was when he realized he wanted a future with me and we even started making plans together and how we will be able to execute them.  He gave up his dream job and his dream country (which was France) just to make a life in Mexico and be with me.
Besides that, I never found someone as weird as ME and I felt really relieved and happy that I could be myself with him without feeling ashamed of how he was judging me.
I had culture shock when He…
got mad at me when he saw a picture of me and a (male) friend together putting his arm around my shoulder. That day we all were in a conference at my school, so during the break my friends and went to the photo booth. My male friend was next to me and we posed that way. My boyfriend saw that picture on Facebook and well, you can imagine what he thought… so I learned from there that Koreans don't do that with their friends hahaha.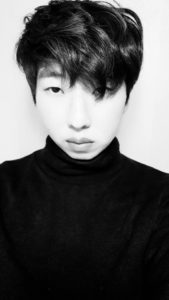 3 things I love about Him are…
1. He really loves me and supports me no matter what.
I've had some economic issues with my family but he has always been there supporting me and buying me school supplies. Even though I say no, he will never accept NO as an answer… But I am sure I will someday pay him back all that he has done for me. He's my biggest support and I know I can always count on him. I admire him for being such a caring loving man.
2. I love how he's always cheering me up, he can be the funniest guy and he makes me laugh so easily all the time.
As I said before he's sooo weird (like me) so we complement each other perfectly well, no one can make me laugh as much as him and knowing he loves me so much just makes me smile easily all the time.
3. I really really love when he plays the piano and composes songs for me. I am his fan number one! He often draws, plays the piano and composes songs. Some of those songs have had my name as a title. I am always very touched and happy whenever I hear and see the way he touches those piano keys. Even though he says he's not that good, to me, he's the best musician ever ❤
The biggest misconception about His country and culture was… 
I was super scared of Korean people because I am Mexican and I thought Koreans were really racist people. Even thinking about me stepping into Korean territory freaked me out. I imagined people glaring at me or things like that. But I think it was just my imagination, and my boyfriend has encouraged me not to be afraid of that.
The most beautiful thing He ever did for me was…
I am not the type of a girl who loves material things. So when he draws for me, sings or plays the piano these are all really magical moments to me. The sweetest thing ever was when we were in a park and he kneeled in front of my friends, he then gave me a promise ring. I was so touched and happy at that moment. He's such a cutie!
During this relationship the most important thing I learned about myself was…
I learned how to love a person and to love myself. I never thought I would have been able to love somebody the way I do now. He made me become a better person and how to fight for my dreams and achieve them. Love distance relationships are hard, but when you find the right person distance is just the space between you. Long distance relationships teach you to be patient, trust your partner and be strong so you won't give up this journey
If there is a piece of advice I could give to my fellow Western girlfriends who are into the AMWF relationships that would be…
There will always be cultural shocks in a relationship like this. Listen, understand and embrace that new culture that is quite different from yours. Cultural shocks are one thing. Additionally, we humans tend to have different mindsets and personalities so respect is the foundation of everything. Love yourself and do not try to be someone you're not. Life is not a Korean drama!  Still, it's really worth giving it a try because when you're with your soulmate, you get the best of you and him.
Questions to Him
Asking her out for the first time was…
The first time when I was asking her out was through a phone. As you can imagine, it wasn't too romantic. However, I had to do it so I could be hers. I knew that not everyone could deal with the difficulties of long-distance relationship because patience and understanding are necessary. But I believed somehow that, if she is the one whom I can share my life with, I could overcome anything that stops me from growing the feelings I have for her and become someone better. To me, honestly, it was a fate.
I learned She is right for me when…
The moment I learned she is the right person for me was when we skyped for the first time. I will never forget that moment. Her look was as if I saw her before, somewhere… She had quite a familiar face. Normally when I skype with other people, I feel shy, trembling and a bit bored after a certain time passes. But with her, everything was different. I felt quite relaxed and I was smiling like a fool, and time was passing like a shooting star. And inside of me, I felt like I could talk to her all day long.
I had a cultural shock when She….
told me that friendship in Mexico is built with love. For example, it was okay for her to let another male friend drive her just alone like that or other male friend putting hearts in comments or letting another guy put his arm on her shoulder. It was something weird to me… or maybe I'm the weird one being jealous.
3 things I love about Her are…
The first thing I love about her is her pure kindness. She is so kind that she makes me doubt if she is an alien-like  E.T. I lived for 24 years and she is the kindest person I have ever met. She is different than any other girl out there. For example, whenever I was about to send her gifts, she always tells me to buy her something cheap or to not waste my money. I strongly felt she was very different.
The second thing is how loved she makes me feel. Even though this huge distance separates us, she gives me way too much love. She takes care of me so much, like a mom and a real wife and she always tells me that she loves me so much. Whenever I hear that every single day for 4 years, it just makes me happy that she chose me.
The third thing is the flows in her. There is something unique about her, something that no other girls possess. She helps me become better. She is my motivation. I always want to do my best for her. Even though she does nothing, she makes me smile. She makes me feel way too comfortable and the way she cheers me up is like a baby daughter trying to make me smile by doing all her effort. It's really cute to see her do that.
The biggest misconception about Her country and culture was…
After watching American movies about Mexico, I thought there will be just drug cartels and murders. So I felt a bit afraid of going there. Before visiting her, my friends were like " be careful and not get killed out there". However, I learned those movies were totally nonsense presenting unreal characters. I felt safe over there. I also learned from my girlfriend how the members of the cartels looked like – they wear like normal people, not necessarily having tattoos on all over their body and looking scary like in the movies.
The things that She likes to do for fun with me are…
She likes watching movies with me, especially horror movies! She likes tickling me for fun. She wants to draw with me and draw something on my popped out belly…  She also likes to tease me for fun telling me that I'm old which is sad.
She hates when I…
She hates when I interrupt her when she is talking. Whenever I skip my meal, she gives me a mother glare, quite scary. She hates when I tell her that I love her more which is true but she denies it. And finally, she hates when I do not pay enough attention to her when I'm with my friends. Oh! She really hates when I tease her about anything (and imitating her sometimes ), but I do it because she is super cute like a baby.
During this relationship the most important thing I learned about myself was…
Before I was shy and I didn't have enough confidence in myself. But now, being in a relationship with a girl I do truly love with all my heart, I learned that I could achieve anything.  I gained confidence and I lost my shyness. I also became more patient and more open-minded. Moreover, as you know, this kind of distance relationships are very tough but I also learned that if you don't give up, then there is nothing that will stop you.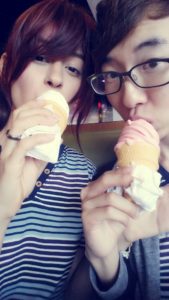 If there is a piece of advice I could give to my fellow Asian friends who are into the AMWF relationships that would be…
The toughest part would be the interracial culture, the impact of different mindsets, culture, habits, and behaviors. What's the best solution? Learn about the culture of the girl you love and understand it, make it yours since you will have to face it in some days in your life. Be yourself, show her your weirdness and awesomeness. Be confident. Especially, if there is some kind of part in the culture that you don't like or can't understand, never get mad (yes yes I got mad too but I shouldn't have been that way). Always talk nicely and softly.
Love the story of Sejung & Litzy? Follow their Instagram.