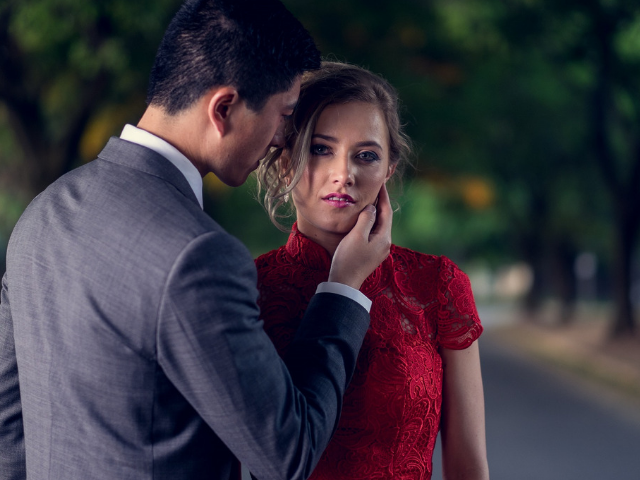 The story of Jacky and Jennifer
Jacky and Jennifer met at their first year of law school in South Africa in 2009. Jacky was born in Shanghai, China and moved to South Africa with his parents at the age of 10 and Jennifer was born in South Africa with European and Afrikaans ancestry. They started dating a couple of months after meeting at university and got married in 2015. After getting married they moved to Sunninghill, Johannesburg, where they live with their two adopted cats. They spend their days as a fun-loving lawyer couple and enjoy a balanced and healthy lifestyle of fitness, sports, dining out and traveling the world.
Questions to Her
On our first date…
Our first date was actually a double date with two friends of mine. We went to see the movie "Hangover" (not terribly romantic, I know)! I remember him being quite nervous (although he would never admit it). Our second date was way more romantic and he cooked me an amazing Italian meal. It
is definitely a plus when a man can cook and I could see that he had a passion for food which is an interest we share.
During the first months of dating my deal-breaker would be…
We started dating when we were 19 in our first year of university. I had never really had a very long-term relationship so if he had been too controlling or overbearing I probably would have ended things. My family is also very close-knit and if he had not been willing to spend time with them, or get to know them it would have been a deal-breaker.
I learned He is right for me when…
I realized I could confide in him and speak to him about anything. We spent a large amount of time together in university and we would even study together. Our relationship developed but we also became best friends in spite of all our differences.
I had a cultural shock when He…
I wouldn't exactly call it a culture shock, but meeting his family has been an interesting experience. There is a slight language barrier and his parents are very set in the way that they do things. Because of the tonal nature of Chinese Mandarin, it often sounds like his parents are arguing, when they are in fact, engaged in normal conversation. They are wonderful people, however, and have accepted me and my family wholeheartedly.
3 things I love about Him are…
His confidence – growing up as an only child has given my husband a great sense of independence and this has made him a very self-confident individual.

His ability to listen – I do a fair amount of worrying and I often need to voice my concerns and anxieties. My husband is always willing to listen and reassure me. He is my rock.

His sense of humor – he is my best friend and we have exactly the same sense of humor. We also make fun of each other quite often and love a bit of banter.
The biggest misconception about His country and culture was…
In South Africa, there is a lot of ignorance about Asian culture and people in general. Many South Africans are unaware of how culturally, linguistically and gastronomically varied all the different areas in China are. People's perception of Chinese food, for example, is still limited to the westernized "Chinese take-out" style dishes and authentic Chinese fare has yet to be fully explored.
The most beautiful thing He ever did for me was…
My husband had asked my father for his blessing before proposing to me. This act would become so much more meaningful in light of the events which followed. Our wedding date was set for October 2015 and our planning was well underway. We then had an overwhelmingly difficult year when I unexpectedly lost my father early in the year. Later that year my grandfather and my husband's grandmother also passed away. It was one of the most painful times of my life and my husband was there to support me and my family every step of the way. This is the most beautiful thing he has ever done for me and I do not know if I could have made it through without him. We still had a beautiful wedding on the date and at the venue, we had chosen with my dad earlier that year.
During this relationship the most important thing I learned about myself was…
That I am strong and capable of making my own decisions in spite of outside influences. The best things are worth fighting for and if you aren't willing to fight your life may take a whole different direction.
If there is a piece of advice I could give to my fellow Western girlfriends who are into the AMWF
relationships that would be…
As much as the world has progressed there will always be people who have discriminatory views. Occasionally you will have to deal with such individuals. Don't let anything anyone says influence your decisions, do what is best for you. Sometimes you need to be patient as certain views and stereotypes come from a place of ignorance, see it as a chance to teach someone something new. Embrace your significant other's culture! Try new experiences, eat new things, and even if you don't like it, his family and friends will genuinely appreciate your willingness to give it a go. If he is not well acquainted with your culture encourage him to participate in activities and family events. The fun thing about inter-racial relationships is the opportunity to have new experiences.


Questions to Him
Asking Her out for the first time was…
Exciting but a bit nerve-wracking as it had been a few months since we met and we had been chatting and hanging out for a while but to officially ask her out was quite a big step.
I learned She is right for me when…
When I realized that she was the only person/thing on my mind. Needless to say, attending lectures and studying became less important during that first couple of months of meeting her. It was also always important for me to ensure that she had a similar view on life and goals as I did and when I realized that she did indeed share those same values, it was clear that she was the right person for me.
I had a cultural shock when She…
Took me to visit her extended family for the first time, being introduced to her big extended Afrikaans and English family was quite an intimidating experience. Like Asian families, her extended family is quite big and are in a sense also quite traditional. It was never going to be easy to fit in with her family but luckily having spent a big portion of my teenage life growing up in South Africa, the transition was relatively smooth.
3 things I love about Her are…
1. Her beautiful heart – she remains the best person I know and has a very strong sense of moral fiber.
2. Her humor – she connects with me on so many levels and part of that is she has a wicked sense of humor and can see the lighter side
of things even in dark or difficult situations.
3. Her kindness – she is unequivocally kind and always aims to treat everyone equally and with respect.
The biggest misconception about Her country and culture was…
Is that South African Afrikaans people are backward. Through our relationship, I have realized that they are just like any other traditional group of people around the world that have a strong sense of community and family and are just trying to preserve their culture.
The things that She likes to do for fun with me are…
1. Just hanging out together – we are quite used to spending long periods of time together and I would say that she is the happiest
when she is spending time with me.
2. Being foodies together – we both love good food (both cooking at home and dining out).
3. Traveling the world together – we both love traveling around the world to experience diverse food and culture.
She hates when I…
Am being stubborn, after all, we are both lawyers and we both have strong opinions and personalities. Our jobs inherently require us to be rather argumentative and it often results in us having strong opinions on certain topics and I would be the first to admit that I can be quite stubborn at times.
During this relationship the most important thing I learned about myself was…
Patience and communication are 2 big areas that I really needed to work on. Having grown up as the only child of the family, I have always been very independent. Part of being independent is making quick decisions, our relationship has taught me that to truly make any relationship work, it requires good communication and patience from both parties.
If there is a piece of advice I could give to my fellow Asian friends who are into the AMWF

relationships that would be…
Asian males have consistently been undermined to be unattractive and undateable in Western culture. Whilst I do not promote AMWF relationships for the sake of people just being in one, Asian males need to stand up and man-up and prove to the world that they are worthy just like any
other race. It will be a difficult journey ahead for many but with love, patience, and understanding, I  hope to see more many more AMWF relationships flourishing around the world.
What if you could be loved for exactly who you are? At eharmony, you can. Join today!