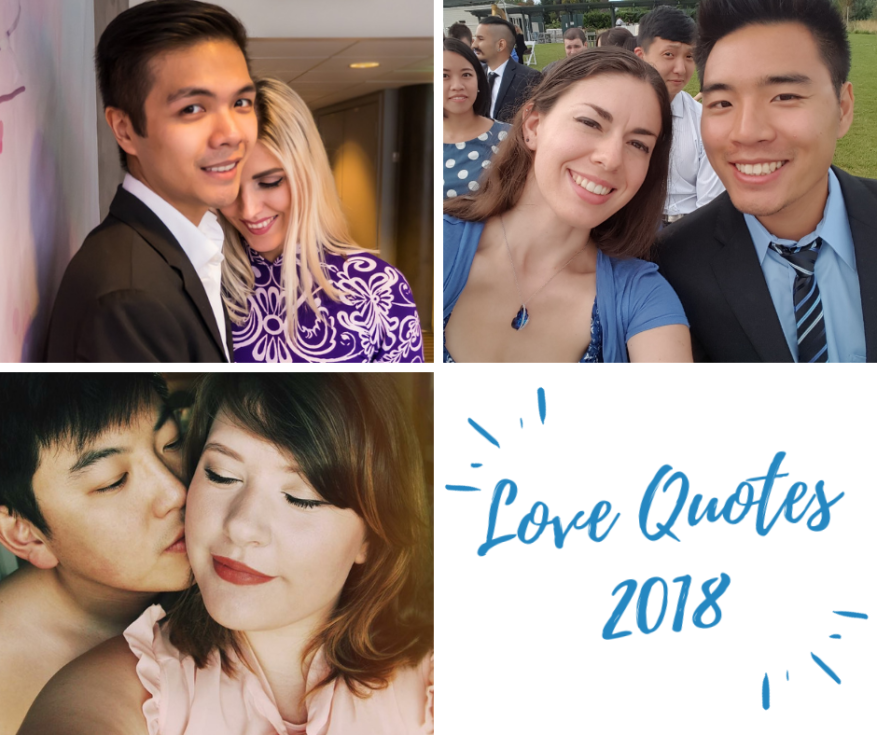 If you've ever been in love, you know how hard is sometimes to put your feelings into words…Thankfully, there are some amazing people out there who have managed to articulate the magic of love using simple and perfect words. And they shared them with me over 2018…
I was lucky enough to interview these inspiring people who are not only happy in their relationships but who also were willing to share their happiness with you.
Below I share with you the collection of my favorite love quotes I extracted from the AMWF couple interviews I conducted in 2018. One inspiring quote for every month…I hope they will stay with you through 2019 and make it a more lovely year:-)
January
"I learned there are people out there worth waiting for. Patience and communication are vital and the willingness to work and learn together to tackle issues as a couple." (Tiffany)
Tiffany and Joseph met on the dating app called Skout in late 2012. They work and live in Seattle. Read their interview HERE.
February
"Keep dates phone free, whoever it texting / calling at the moment isn't as important as learning about the one you're potentially spending your life with. The rule applies no matter how long you've been together. " (Cheng)
Alicia and Cheng met in 2013 on the app called "momo" mostly used by Chinese youngest for dating.  They work and live in NYC. Read their interview HERE.
March
"I learned She is right for me the morning after our first date, I was on my morning run and all I could think about was her.  At the end of my run, I
actually said out loud, "I think I'm going to marry her." (Morley)
Nic and Morley met at a friend's going away party. They now live in Minnesota, the USA with their 5-year-old son and six-year-old puppy. Read their interview HERE.
April
" I think the number one thing that we both love is eating. When we have good food, there is not a single care in the world, all the bad things just go away, and we are just "us". I love cooking for her. As egotistical as this sounds, I just like when she tastes that first bite and says "Mmmmm" and tells me that it tastes good." (Allen)
Elyse and Allen met at the 1st Comic Convention (Comic Con) n 2012. They live in Canada.  Read their interview HERE.
May
"Whenever we are together, I am comfortable being myself. I don't feel the need to pretend to be someone else and I can show my flaws without being judged. In my opinion, this is one of the most important parts in order to have a healthy relationship." (Anna)
Anna and Tadayuki met on Instagram. They currently live in Switzerland. Read their interview HERE.
June
"Haoyang was my only hope. At that time he took care of me, even though we didn't live together. He was visiting me every morning, during lunch and dinner to help me, bring food and take care of me. There was a time I was really weak, coughing a lot, yet he was there, not caring how bad I looked like, just taking care of me… I will never forget that." (Cassandra)
Cassandra and Haoyang met through a Romanian friend at the university cafeteria in Beijing, China. They live in China. Read their interview HERE.
July
"I was struggling to fit into the Norwegian society, as well as with being alone, as I had been around friend 24/7 for a year living the dream in Japan. I wasn't ready to go home but Rice spared me a lot of pain, helping get through the shock of making lots of new adventures with him. Getting through all that with me, I realized he was really a keeper. " (Potato)
Rice and Potato met for the first time in Copenhagen Airport, both on the way to Japan. Now 4 years into our relationship, 6 years after they met, we live together in Bergen, Norway and make Youtube videos about our life. Read their interview HERE.
August
"I think this goes without saying that giving me his kidney was definitely the most special thing! He said even if we ever broke up, he'd never regret donating his kidney because he had the chance to make sure he saved my life and keep me in the world – to make sure my light doesn't go out. He said, many people never get the chance to do anything as important as saving another person's life, and to have that opportunity was a gift. Even when we have little arguments or get annoyed with each other, I know he loves me and has a good heart. I've never doubted that." (Victoria)
Victoria and Paul met through mutual friends throwing a karaoke session at their favorite Asian-style karaoke joint in New York City they tork and live now. Read their interview HERE.
September
"Loving James was like breathing, just natural for me. He made me laugh more than anyone, got to the bottom of problems with me, and made me feel like the most special person. I really don't believe in "the One". I DO believe that when two people love each other, are honest, work hard to make it work, and put the other first, then anything is possible." (Jessie)
James and Jessie met at a Korean church called Evergreen Church, Alabama. Three years of dating and four years of marriage later, they now live in Dalton, GA. Read their interview HERE.
October
"I had depression and while he was sleeping I wrote a list of words, practicing my Korean. "I am fat", "I am useless", "I can't do anything" and a dozen other things like this. He went out early morning and when I woke up I saw all my words changed. "I am fat" turned into "You are beautiful". "I am useless" – "You have so many talents", "I can't do anything" – 'I love you". (Alyona)
Alyona and Yeong-Il met in one of the English Parties in South Korea. Read their interview HERE.
November
"During this relationship the most important thing I learned about myself was…That I am strong and capable of making my own decisions in spite of outside influences. The best things are worth fighting for and if you aren't willing to fight your life may take a whole different direction." (Jennifer)
Jacky and Jennifer met at their first year of law school in South Africa in 2009.  After getting married they moved to Sunninghill, Johannesburg. Read their interview HERE.
December
This month is for You. Fill it with your favorite love quote!
Have a wonderful 2019, full of joy and LOVE!