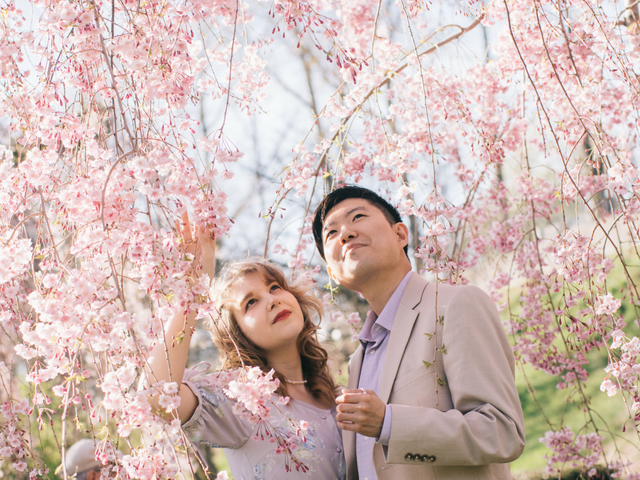 The Story of Paul and Victoria
Paul and Victoria met through mutual friends throwing a karaoke session at their favorite Asian-style karaoke joint. In New York City, karaoke rooms are the go-to substitute for house parties, where apartments are really small! Victoria had a really bad string of dates and just gotten stood up that day when her friends invited her out to party with them. When he walked in, they were both instantly attracted to each other. They went on our first date the following week.
After a few weeks, Victoria explained to him that she had terminal kidney disease and needed a kidney transplant or else she would die. That Christmas, Paul got tested and discovered he was a match! His family didn't like that he wanted to donate his kidney, and it took a lot of convincing and prayer to get them to accept the situation. The kidney transplant was a success, and two years after the transplant, he proposed to Victoria amid all the cherry blossoms in Brooklyn. They're currently condo-shopping are planning a 2020 spring wedding.
Questions to Her
On Our first date…
I was worried he would be a little shy, so I made the first move by grabbing his hand as we walked through the elevated park above the city. I think he liked that I wasn't afraid to show I was attracted to him!
During the first months of dating my deal-breaker would be…
It took a while for us to get on the same page about religion! He comes from a very religious and somewhat conservative Korean Christian background, while I spent most of my prior years studying meditation and world spiritualist traditions, like Irish mythos. I've become much more comfortable participating in his church with him, and the church was very supportive during my illness, so I feel we've mostly gotten over that particular hurdle.
I learned He is right for me when…
I think there were a million little moments when I knew he was right for me since he had to care for me a lot while I was very ill. For Valentine's Day, he drove me two hours to a special restaurant and then all the way home, and I was hospitalized that night. He drove back in the snowstorm and then slept in my hospital room all week, never telling me he got into a car accident trying to get back to me! It was just a fender bender, but it just goes to show – he would and has done anything for me.
I had a cultural shock when He…
He told me we couldn't kiss or hold hands in front of his parents or at church! We're a very affectionate couple but it took me a while to get used to the more Korean ideas of modesty, even simple things like covering my shoulders or décolletage in traditional Korean spaces. In many ways, Korean pop culture paints the idea of a very modern Korea, with women in short skirts and men in eyeliner, but every day Korean culture is fairly traditional.
3 things I love about Him are…
He's really caring! I'm always amazed at how much he goes out his way for me, like picking me up from the train late at night or driving me to the special events I cover for my fashion blog. He's very generous with his time and always does his best to take care of me. I also love how a really hard worker, I'm always proud that he's the top performer in his division at work. But most importantly, he always believes in me and makes me think I can do anything, even when I doubt myself. He's always encouraging me and cheering me on, and thinks that my writing and perspective is very special and needs to be heard.
The biggest misconception about His country and culture was…
Korea is definitely not all about Kpop and other popular Korean culture as we knew it. I thought I knew something about Korea when I met him, but there's so much more to experience the culture than you can get from popular media. I also know a lot more about Korean history and politics than I did when we met, and a lot of what we learn as Americans is definitely slanted! Korea as a country is very multi-faceted and has a fascinating history, and Korean people are shaped by the values and hardships they have overcome. If you're only watching Korean dramas and singing along to Big Bang, you're missing out on so much of the nuance that makes Korean culture beautiful.
The most beautiful thing He ever did for me was…
I think this goes without saying that giving me his kidney was definitely the most special thing! He said even if we ever broke up, he'd never regret donating his kidney because he had the chance to make sure he saved my life and keep me in the world – to make sure my light doesn't go out. He said, many people never get the chance to do anything as important as saving another person's life, and to have that opportunity was a gift. Even when we have little arguments or get annoyed with each other, I know he loves me and has a good heart. I've never doubted that.
During this relationship the most important thing I learned about myself was…
To never give up! It's not always easy to take on a new culture, or learn a new language, or even just make a relationship work when you have different perspectives and personalities. But by his example, I've learned to be more patient and that our relationship will continue so long as we both believe in each other. I'm never giving up on him, or our love.
If there is a piece of advice I could give to my fellow Western girlfriends who are into the AMWF relationships that would be…
Fitting into his culture is so important, even if you're dating an Asian-American man. There will always be even small things that make you realize you have different experiences and perspectives, and being able to relate to each other and how your culture is part of that is so important. For example, sharing food is a very important way to relate to each other in Korean culture, and on our first date, we ate family-style. Learning about Korean culture has taught me that my mother-in-law slicing me a peach or when I make him fried rice for breakfast, are both signs of love and not to be taken lightly. The more you can understand your partner's culture, the more you can understand the unspoken interactions between you two. It might even surprise yourself, the kind of things that you didn't consider 'culture', but are important to you, from your own background. Cultural holidays like Father's Day seem ordinary to Americans, but it's not something other cultures might celebrate, so you'll be able to experience those things with new eyes as well.
If your partner speaks another language, or his parents do, I really recommend you learn it or at least try! There is so much you can understand about someone from their mother language. I'm not the best at speaking Korean, but I keep trying to learn – another thing that's taught me persistence! I have mostly learned Korean from self-study and immersion through his culture, family, and Korean neighborhood. I would still like to take formal classes so that I'm fluent, but for now, I can communicate with his family and the people around me. I think the more Korean language I learn, the more I'll be able to get emotionally closer to his family and community, and that's very important to me. Marrying into another culture isn't just about the love between the two of you, but also the love you build by joining and creating a family. It won't always be easy, but the bond and family you create between the two of you is the most precious thing you can make.  
Questions to Him
On our first date…
I was very excited! I just felt that I had a real connection with her and I couldn't pass up the chance to ask her out! I told her she was 'the coolest girl I had met in a long time'. We were both foodies and I wanted to make it memorable, so we went for tapas and a sunset walk in the park.  
I learned She is right for me when…
We just had a great vibe and honestly, I knew from our first karaoke duet that we were right for each other. We were instantly comfortable together and I'd never felt that way before. It was love at first sight!
I had a cultural shock when…
I was really surprised about how big American Christmas is! They do a lot of giving of presents and spending time together as a family that day, and in my family, Christmas is usually not about presents or big celebrations. Our Christmas is very religious, and I didn't know what to expect about a big material Christmas. In Korean culture, presents are about reciprocating and showing respect, whereas Americans just like to shower each other with as many things as possible, so there was an emotional disconnect there for me. It was really overwhelming!
3 things I love about Her are…
It's hard for me to pick just three! I love her brightness and energy, she has a genuinely sunny personality that a lot of people don't have. She's always happy to see me and likes to tackle me with hugs. I love that always looks at me with these big doe eyes that are full of love… She has hazel eyes that change colors and I love that about her. I also really love her kindness and heart… Even when she's faced with people putting her down, she has the best intentions and wants everyone to be happy. She's a lot stronger than people think, and even when she was terminally sick, she was trying to make the most of her life and give it her all to spread the love. While she was sick, her goal was to do as many things as she could with me before her strength gave out. She always takes me on her adventures, and I love that.
The biggest misconception about Her country and culture was…
When I met her parents I was really worried that they wouldn't accept me, but they were really open and never made me feel like an outsider at their events and gatherings and in their own home. She was really sick at the time as well, but her parents and family welcomed me right away. I can understand if they were protective of their sick daughter, who is their only child, but they said they just wanted her to be happy.
The things She likes to do with me for fun are…
She likes me to take pictures of her for her fashion blog and I got pretty good at it! I think she's really beautiful so I work hard to get the best angles and poses of her. We like to research and try new restaurants a lot as well, just like when we met – we've even become food reviewers and get invited to restaurant openings now. And like a lot of couples we like to try new television series together! We like American dramas and suspense, like Better Call Saul, but also Korean dramas and variety shows.
She hates when I…
I don't know what her pet peeves are and I don't want to know, haha! Sometimes when she's working and I'm bored and craving attention, I'll make small sounds at her, like 'bloop'. We often both work from home in our tiny apartment so I can easily drive her crazy that way!
During this relationship the most important thing I learned about myself was…
I learned that I'm a lot stronger than I thought, and I went through a lot to be with her… I was willing to do anything to be with her, even if people treat us badly as a couple. Racism in America is still a really big issue and we are the rarest kind of interracial couple, so people are often surprised, confused, or upset to see us together. Even if my parents disowned me, I was willing to face down anything as a couple. They were very resistant to us being together when I introduced her, but I wouldn't give in. She's given me a lot of courage because she's the one I choose.
If there is a piece of advice I could give to my fellow Asian friends who are into the AMWF relationships that would be…
First, find someone who accepts you as who you are so you can be your best self. Not who everyone tells you to be as an Asian-American man, or as a Korean man, and not the stereotypes or mold you think you have to be. She needs to really accept you and not push her stereotypes onto you, and always be your partner, for who you really are.
You'll experience pushback from both sides of your community. You are going to stand out as an AMWF relationship and your other friends may not understand, or rib you about dating a Western woman. Sometimes you might even feel alone as a couple because there aren't many couples like you. I used to think I could look to other interracial couples in the Asian community because Asian women are most likely to marry outside their culture, but it's a very different experience for them, and there isn't a lot of support in that arena. Parents are a tough hurdle too, but I think that's something you'll eventually figure out if you keep at it. If you face these difficulties as a couple though and know you really love each other, it's all worth it. Love is what really matters.
If you love the interview with Victoria and Paul check out her Instagram.