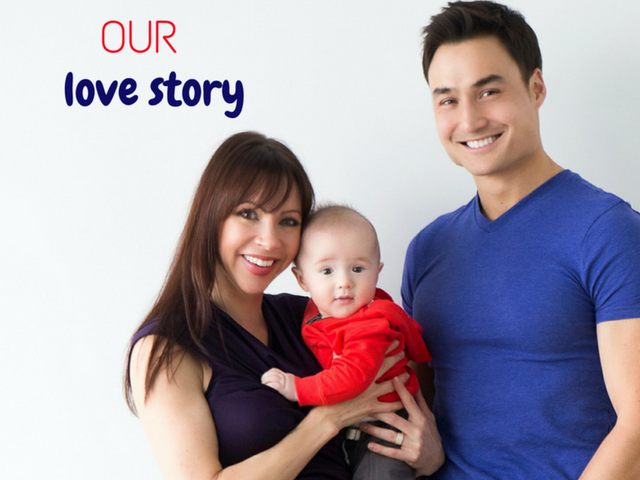 The story of Nic and Morley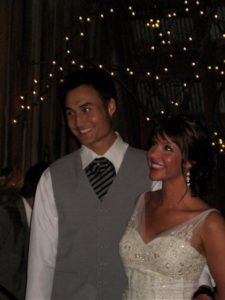 Nic and Morley have crossed paths their entire life without knowing it.  Nic grew up a mile from Morley, but she's five years younger so they never met; Nic and her best friend would watch her brother at swim practice, Morley was on the same team. Morley would shop at Nic's father's gas station while Nic worked the counter. Years later, in another city, Nic and Morley met at a friend's going away party. Two years later, in May 2007, in yet another city, Nic recognized Morley across a crowded restaurant. They spent the night talking and laughing  A week later they both went on the last date of their lives. They now live in Minnesota, the USA with their 4-year-old son and five-year-old puppy.
Questions to Her
On Our first date…
it was May 29, 2007, he picked me up at my apartment and we went to a quaint local neighborhood restaurant.  I remember every detail of the moment he picked me up, how he walked around the car to open my door, what he was wearing, how he smelled, his beautiful brown eyes and the way he smiled.  Still unsure of what this was, I tried to temper the butterflies inside my entire being. We ordered the same food, we talked for hours and as we left, I nabbed a local magazine for a piece of memorabilia in case we became something.  
During the first months of dating my deal-breaker would be…
if he didn't want children and if he had a small penis…this is not a stereotype, this was true for any guy.
I learned He is right for me when…
I fell in love with every word he wrote to me during those first few days after our first date.  The future was not clear, nor the life we would have, I just knew we needed to live our lives together.  I wrote on my bathroom door, "He's The One," that was seven days after our very first date.
I had culture shock when He…
spent so much time with his family.  They talk to one another almost every day and with the closeness in the emotional sense, I nearly suffocated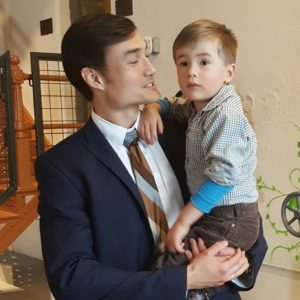 3 things I love about Him are…
it is difficult to narrow down to just three things that I love about my husband, frankly impossible.  I love that my husband mentally challenges himself every day to seek the truth and understanding of the world.  He is emotionally sound, connects to humans and all living things in a loving way.  He physically strengthens and cares for his body in order to keep our family safe and trust that he will be here for us in the future.  His relationship with God and his spiritual wellbeing shows us that being good and doing good is the only way to live life
The biggest misconception about His country and culture was…
that Asians are all lumped into one category. Being white (and raised in a racist family) I did not even know there was a difference between Chinese, Japanese, Vietnamese, etc.  Asian was just Asian.  How ignorant I was and how fortunate to meet a man that would teach me to open my eyes and see through the lens in which he sees.
The most beautiful thing He ever did for me was...
never abandoned me.  He showed me that he was committed 100%, that I could trust him and that he loved me.  I told you he was strong!
During this relationship, the most important thing I learned about myself was…
that I will never fully know what my husband has had to endure in his life being an Asian man.  However, I do know that giving up understanding is not an option.
If there is a piece of advice I could give to my fellow Western girlfriends who are into the AMWF relationships that would be…embrace and celebrate your differences.  It is in the differences where you will find who you are as a person, a wife, and a mother.  Being in love with a man that has had to overcome so many challenges as a boy, teen, and man and will continue to face even more challenges, ignites a fire to fight not only for his rights but our son's.
Questions to Him
Asking Her out for the first time was…  
difficult; I didn't get her number, so I had to use my detective skills to track her down (I was a police detective at the time).
I learned She is right for me when…
the morning after our first date, I was on my morning run and all I could think about was her.  At the end of my run, I actually said out loud, "I think I'm going to marry her."
I had culture shock when She…
introduced me to her Norwegian/Swedish American family.  They had never met an Asian American before. If they had, I feel sorry for them. We were at a family reunion and the first person I met was one of her uncles. He opened with, "What's the most useless thing on an Asian woman, an Asian man.  HAHAHAHAHAHAHAHAHA!"
3 things I love about Her are…
she's caring, sharp, and makes me want to be a better person.  And she's beautiful (extra credit).
The biggest misconception about Her country and culture was…
prejudice is absolute. Sure the majority of people from her community are racist and stereotype but, many of them base that pre-judging on lack of exposure. Once they see the beauty of my culture, many of them drop that prejudice.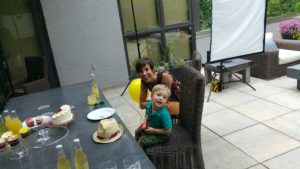 The things that She likes to do for fun with me are...
whoa, that's super personal!  Experience the world and life together and sometimes that means just being with each other. I travel a lot for work and it's a treat when she can come with. We were just in LA for a screening and it was wonderful to have her at the airport, Lyft, hotel, all the stuff that makes me lonely when I'm by myself. It was also a blast to introduce her to my work friends, she makes me so proud!
She hates when I…
embellish in the slightest and swear, which is tough to do as an ex-cop and current actor.  "Forever" should maybe just be, "a week" and "he's a complete POS" should just be "jerk."
During this relationship the most important thing I learned about myself was…
I. Am. Awesome.  In all seriousness, she taught me to appreciate the aspects of myself that I tend to depreciate.  I went from being a detective who didn't want media attention to an actor who needs it.  "Forever ago," we were talking to a big budget director at a party and I said I wasn't great at acting.  She reminded me that we wouldn't have been at that party or be talking to them if I wasn't.
If there is a piece of advice I could give to my fellow Asian friends who are into the AMWF relationships that would be…
Be strong and true to yourself.  Statistically, Asian males and black females have the toughest time being seen as desirable in the US.  There's a bunch of evil reasons why but we can change that together.  Look for support online or in groups but be wary of all the useless infighting between AF and AM.  I'm fortunate to be the child of extremely loving WMAF parents and now have a son.  Nic and I work hard to break stereotypes and set an example for future generations that Asian males can be anything, anything they set out to be; tough, strong, crazy, funny, desirable – themselves. We can be whatever other ethnicities can be; athletes, soldiers, cops, models, politicians, mentors — heroes.
If you love the interview with Nic & Morley, follow them on Instagram.