The story of Jonathan and Jaclyn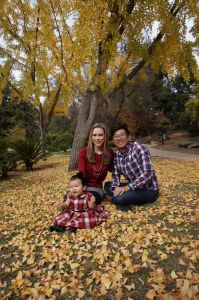 Jonathan and Jaclyn met on a small social media site 6 years ago. They both lived in California about 4 hours apart. After about a month of messaging each other and video chatting, Jonathan surprised Jaclyn in her hometown a week before they had planned to meet! Jaclyn was really nervous but was instantly at ease when she met Jonathan. They have been inseparable since! Despite two years of long distance, they married in 2013 and now have the cutest little 17-month-old girl. They currently live in Southern California but love to travel, most recently to Europe with their daughter. They can't wait to take her to Asia one day soon! They started a Youtube channel comparing cultural differences called Two Wongs Make it Right before their daughter was born. Thing got a little busy with their baby, but they miss it and hope to make more videos soon.
Questions to Her
On Our first date…
we had so much fun! We grabbed dinner near my apartment. The food wasn't great but he instantly put me at ease with his laughter and smile. He is really warm, friendly and charming. I was surprised how natural it felt. I knew that I definitely wanted to see him again!
During the first months of dating my deal-breaker would be…
if he didn't love nature or exercise. Those two things are really important to me and we love doing them to together! Fortunately, he took me on a ton of hikes when we first dated so I knew he was the one.
I learned He is right for me when…
he encouraged me to move across the country for my nursing program, even though that would mean two years of long distance for us! That was such a selfless act. We had only been dating less than 6 months when I had to move. We saw each other about every 3 months which was incredibly hard, even more for him. We survived though and got married just a few months after I returned!
I had culture shock when He…
sent me a picture of his delicious meal at a restaurant…it was an entire pigeon! I was pretty horrified since Americans aren't used to seeing whole animals on a plate! I also didn't know pigeon was even on a Chinese menu.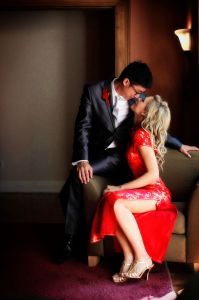 3 things I love about Him are…
first, he is extremely considerate, the most giving person I've ever met. He sent me enormous care packages when we lived apart filled with goodies from the Asian store. Second, he has an engineer brain, which I completely lack. I need his brain to be complete! Third, he is romantic. He isn't like most guys I've dated. He planned a super romantic night for my 31st birthday while I was 8 months pregnant. We stayed in a beautiful resort across from the beach, ate an amazing meal and enjoyed dipping my legs in the spa that night since I wasn't allowed to get all the way in. It was the perfect night!
The biggest misconception about His country and culture was…
that Chinese eat dogs! Jonathan definitely eats some weird stuff like thousand-year-old eggs, but definitely no dog.
The most beautiful thing He ever did for me was…
asking me to marry him while walking down to the beach on one knee in front of the gorgeous cliffs with water and sand below. He had memorized an entire speech and although he was nervous, he remembered the entire thing! It was incredibly romantic. He also had a part two of his proposal where he made a gourmet meal at home and surprised me with a giant wall-sized collage of our pictures he made from scratch!
During this relationship the most important thing I learned about myself was…
I must be happy and healthy myself before I can make him happy. If one of us is feeling down, it really affects the other person. I love doing healthy activities together like exercising or meditation. It helps us both feel great so we can be the best partner to each other!
If there is a piece of advice I could give to my fellow Western girlfriends who are into the AMWF relationships that would be…don't give up and be open-minded! It can be hard to find a guy who truly accepts you. Often it is actually their family who will not accept you, so don't take it personally. Just keep trying and put yourself out there. I had several guys who just wouldn't seriously date me since I was non-Asian. If you are persistent, you will find a true gem!
Questions to Him
Asking Her out for the first time was…
a bit nerve-racking since I only knew her through messages. We did talk over the phone once and Skyped once. However, I didn't know how tall she was and was worried that she might be taller than me and as a result, might not be interested in me. I surprised her by showing up in her hometown unannounced. She had a bad day from work that day and wasn't ready to meet me. I think she was upset at first but it turned out ok. 🙂
I learned She is right for me when…
she said she would move to Canada for me. For me, anyone who is willing to move for me is a good catch. Unfortunately, that was before she had visited. Now she tells me it's too cold. LOL!
I had culture shock when She….
told me that she didn't know shrimp had heads until her early 20s! I think most of the food in America is processed to the point that they don't look like the actual food source. As a result, if you've never seen a particular animal, the only reference you know is through the processed food you get at the restaurant. I remember some of my American friends were shocked to see the whole fish presented during our wedding banquet.
3 things I love about Her are…
she is caring, health conscious and fun. Her whole family is very caring and nice, probably because of her Mennonite background. She always writes these very sincere cards (thank you cards, anniversary cards, birthday cards) which I love. I was brought up to be humble and I'm attracted to people who are down to earth. She is health conscious and always challenge me to be healthier. She was the reason I did my first marathon, which was amazing even though I am not sure if I will do another one again! Last but not least, I love having fun and learning new things and that's something she loves too!
The biggest misconception about Her country and culture was…
Americans are dumb and American girls don't like Asian guys. Well, I think every country has not so bright people. It's never a good idea to generalize before knowing someone. She is very intelligent and likes to learn new things. I love that I can always have a discussion with her about anything. And of course, a lot of American girls LOVE Asian guys!!!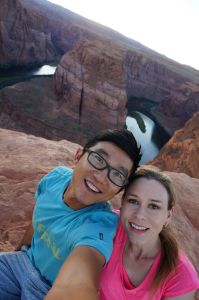 The things that She likes to do for fun with me are…
exercise, travel, go for a walk, explore. We like to be active and try new things, go to new places, meet new friends.
She hates when I…
take life too seriously. I once dropped my iPhone into the toilet and completely ruined it. She wasn't upset at all and told me to not be so hard on myself. It was just a mistake. She has taught me to let things go that aren't important.
During this relationship the most important thing I learned about myself was…
I take things too seriously and worried about things too much. Jaclyn and I are very different. Sometimes, it frustrates me because I feel like we are not on the same page. However, she helps me to put things into perspective and make me realize that everyone has his/her ways of doing things and there's no right way or Wong way. AMWF relationship is just like every other relationship. It's not easy and it takes an effort to maintain it. The important thing is to communicate especially with the different cultural perspectives.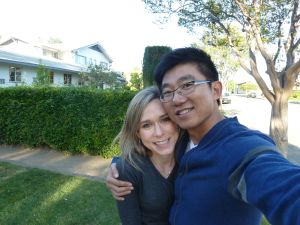 If there is a piece of advice I could give to my fellow Asian friends who are into the AMWF relationships that would be….
I think a lot of Asian guys are too afraid to ask. I am not saying that you should just come up to a random Western girl to ask her out. You don't have to be awkward or weird. Strike up a conversation and get to know her. Spend time to work on getting over your shyness. I think that is the biggest obstacle. If you don't try, you'll always be at 0%. If you try, it's >0%. Also, spend the time to understand her culture so that you can have an intelligent conversation.
Last but not the least, embrace your own culture. Don't try to be someone else. You need to be comfortable with who you are and proud of your heritage. She likes you because of you, not because of someone you pretend to be.
Love the story of Jonathan and Jaclyn? Check out their Instagram HERE.