The story of Raymond and Megan
Raymond and Megan met at church where they both were serving in a ministry together…They fell in love at first sight, got married soon after, and they live happily ever after. All was going great and beautiful, except that it wasn't the real story. Ha!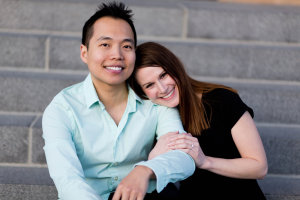 They met online through eHarmony in 2015, because most of their friends were either dating, married, married with kids, or forever alone. And here they were, trying to find the perfect match in the sea of faces on a dating platform.
Long story short, Raymond found Megan's profile and shot her the first messages. They hit it off and met up after doing 5 weeks of long distance, as Megan was living in Chicago, IL and Raymond was living in Ames, IA. Their journey together began that year. They are now married and have been blessed with a cute little girl named Jordanna.
Questions to Her
On Our first date…
It was 5 weeks into our relationship being long distance. We met in Madison, WI, and spent the whole day along with dinner there. He was shy to hold my hand when we were walking at the zoo. After a little while, he did take my hand. Later that night we went to Monona Terrace where he kissed me by the river.
During the first months of dating my deal-breaker would be…
doesn't know and love Jesus. Isn't wise with money. Lack of follow through.
I learned He is right for me when…
he asked me many deep questions about life, family, and the future. He pursued me well! When we were dating long distance, our Skype calls were 2 – 3 hours long.
I had culture shock when He…
rolled down the window in the winter time trying to air out the car, from normal smells on the street. I had the car in outside air mode and apparently, in Jakarta, no one would put the car's air conditioning with outside air mode (due to very heavy pollution)
3 things I love about Him are…
his smile, his positive energy, and his musical skills.
The biggest misconception about His country and culture was…
I don't think I have one. He took me to visit his country to meet his parents, family, and many of his friends there. I went without any expectations.
The most beautiful thing He ever did for me was…
he wrote me a long message on a card and asked me to be his girlfriend. He had me read it out loud while sitting in the car listening to a playlist of romantic music that he had prepared.
During this relationship the most important thing I learned about myself was…
our experiences and background are so different, so I have learned to communicate better and ask clarifying questions before jumping to conclusions.
If there is a piece of advice I could give to my fellow Western girlfriends who are into the AMWF relationships that would be…
If you are dating someone who English is their 2nd language, be prepared to ask a lot of clarifying questions and be ready to teach a lot of English phrases that probably don't make sense to them.
Questions to Him
Asking Her out for the first time was…
Through Skype…We met in person for the first time on our first date, after many weeks of Skype dates. We chose to meet in Madison, WI where we had brunch, a romantic date at the zoo, botanical garden, and a terrace by the river.
I learned She is right for me when…
I had a list of criteria for what I was looking for in a woman. She met the majority of them (not all of them obviously, because that would be unrealistic)
I had culture shock when She….
when I learned that she goes and goes and goes until projects are done because she grew up on a farm.
I grew up in Indonesia where it's common for families to employ live-in house helpers. So growing up, I barely did any chores!
One day, we were working on painting our entire house, and she wouldn't stop to take a break. She kept going and going while I was so tired and ready for a nap!
3 things I love about Her are…
her musical talents, her joy/silliness, and her intelligence.
The biggest misconception about Her country and culture was…
I don't understand why some people in this country can't eat certain things with a "weird" texture. In my country or culture, if it looks close enough to food, then we will eat it, regardless of its texture!
The things that She likes to do for fun with me are…
making pancakes on the weekends, singing/playing music, going on walks.
She hates when I…
don't acknowledge her when I have heard what she is trying to communicate. For example, she would start talking to me about something while I was in the middle of working on my laptop. Of course, I didn't hear a single word she said…
From there we learned that maintaining eye contact and verbally acknowledging a conversation is important.
During this relationship the most important thing I learned about myself was…
I thought I knew a lot already about American culture since I have lived here for 17 years. But I am still learning new things with her as my teacher.
If there is a piece of advice I could give to my fellow Asian friends who are into the AMWF relationships that would be…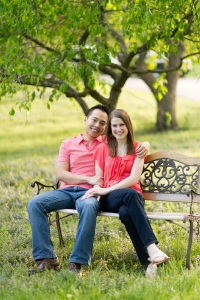 Be confident and be intentional in pursuing the woman of your dreams. Make sure that her values and life aspirations match well with yours. Being in a relationship is tough enough already.But being in a multi-cultural relationship more challenging because of many differences in background, values, beliefs, etc. So be prepared to compromise and learn to be understanding. Also, doesn't matter how attractive she is, you have to be confident that you can lead her and that you have a lot to offer to her. And try your best to make her laugh every day.
Follow Raymond & Megan on Instagram for more pictures of them & the cute baby girl Jordanna!
If you like listening to some good covers subscribe to Raymond's YouTube Channel.