The Story of Caroline and Takehiro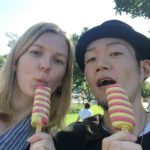 Caroline and Takehiro met through mutual friends in an izakaya, a Japanese-style bar. She has been studying in Tokyo for a year, and he is a Tokyoite working as an illustrator. Sharing various common interests brought them closer to each other, and after few months of dating, they could officially call themselves a couple from April 2016. Now they have been in a distance relationship for over a year, but have visited each other in both Japan and Sweden. They chat every day and skype every weekend. They plan to start a new life together after New Year.
Questions to Her

On our first date…
We went to a nice Japanese restaurant for dinner. At that time my Japanese was still very basic, but we somehow managed to have a good time for several hours!
I took out my notebook so that we could draw and write in order to express ourselves better, and that was a lot of fun! I still have that note with our doodles in my room, haha!
The biggest challenge is…
I feel the biggest challenge now is the distance between us. I miss having him by my side, and to be there for him.
Another challenging thing is the language barrier. I'm trying to improve my Japanese every day, and Takehiro started learning English. If we support each other, someday we will be able to overcome it!
I learned He is right for me when…
I learned He is right for me when I realized we have many common interests and a similar sense of humor. We both share similar taste in arts, movies, music, foods, and more!
I had culture shock when He…
I don't think I have really experienced any culture shocks…yet! I have been in Japan several times before we met as well, so I don't get easily shocked or surprised by cultural things.
3 things I love about Him are…
I love his personality. He is a considerate and very loving person, but also funny! He does many small things that mean a lot to me, and can always make me smile.
He's very patient. Considering that we only communicate in Japanese, and my Japanese is far from fluent, our conversations tend to be simple and involves hand gestures and google translate! However, Takehiro always shows patience and lets me finish what I want to say even though he helps me finding the right words for me.
He's also creative and imaginative, always having some funny ideas! For instance, that he's using a deer-head as a hat stand.
The biggest misconception about His country and culture was…
that I'd offend everyone if I weren't to follow the Japanese etiquette. This stressed me out a little bit when I was visiting Japan my first time.
Naturally, it's important to show respect and learn a little about the culture and etiquette in the country one's visiting. However, I realized that Japanese people understand that foreigners can't possibly know about their etiquette, and therefore are usually okay with foreigner's "clumsy" behavior.
The most beautiful thing He ever did for me was…
I've received many beautiful things from Takehiro, but there's one thing that I hold dear.
When I had moved back to Sweden from Japan, he visited me 10 days later and brought his childhood toy of Earthworm Jim holding a gun. He said that his toy will protect and look after me while he's not around! It may sound strange, but Earthworm Jim is standing on a shelf near my bed now and looking after me.
During this relationship the most important thing I learned about myself was…
I used to want to believe that opposite attracts. Being opposite in every way. It may apply to some traits, and it's good to be different. However, I learned that it has its advantages to be a bird of a feather, and be similar in character and be able to agree on things together.
If there is a piece of advice I could give to my fellow Western girlfriends who are into AMWF relationships that would be…
There are language barriers and cultural differences, so it's important to listen to each other and respect each other. Compromise.
Questions to Him
Asking Her out for the first time was…
I wanted to say, and I wanted to ask so many things, but I think I was feeling a bit uneasy because I don't speak English.
I learned She is right for me when…
We shared many common interests, such as watching movies, painting and appreciating art and so on, and thus the dates just added up.
I had culture shock when She…
She's washing her hair every second day because washing it every day would damage the hair according to her. Also, in Japan, it's normal to put exclamation marks in text messages in order to show excitement and so on. However, Caroline thought I was yelling at her, or that I was being impatient.
Another cultural shock was when I realized how much chocolate she eats!
3 things I love about Her are…
Caroline loves arts and Japanese culture. She has a pleasant personality, one with a child's mind.
She's a little shy, but a reliable woman who always takes the lead among English-speakers!
The biggest misconception about Her country and culture was…
When I was thinking of Sweden I imagined IKEA, nature, Moose, and that it is very cold. However, when I got into a relationship with Caroline I learned various things about Sweden. I visited Sweden and experienced a lot.
The things that She likes to do for fun with me are…
We watch movies at home. Also, we just spend time together, because we don't have much of that time due to the long-distance.
She hates when I…
When I smoke cigarettes!!!
During this relationship the most important thing I learned about myself was…
I think it's a Japanese thing, but I'm really poor at expressing affection! I'm not used to hugs and kisses in front of people, and because of that, I'm not good at expressing love with words. It may be difficult for her to understand…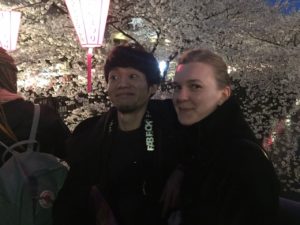 If there is a piece of advice I could give to my fellow Asian friends who are into the AMWF relationships that would be…
There are various problems such as language barriers and cultural differences. I think it's important to know each other well and respect each others' opinions before getting into a relationship.
Enjoy reading the story of Caroline & Takehiro? Hey, why won't you follow them on Instagram? 🙂