The story of Michelle and Takeshi
Takeshi and I met at dinner one night with a mutual friend in December of 2012. I was living in San Diego, California and he was there for a one-year, study abroad program. He asked me to hang out a few times before he left the US in early 2013 but never admitted that he liked me. It wasn't until the day he arrived back in Japan in April that he told me he liked me on Skype and that he had been too shy to tell me. We carried on a Skype relationship for the summer, literally talking 2+ hours a day, every day. I was moving to Seoul, South Korea that August to teach English and we decided we would try to do a long distance relationship. Over the course of that year, we met up in either Tokyo or Seoul once a month and then once my contract was up, I decided to move to Tokyo to be with him. This was August 2014 and I've been here ever since. We got engaged and married in 2016 and now are in the final stages of the US immigration process to move back to my country in early 2018, have a wedding in October of 2018, and hopefully start a family in the next few years.
Questions to Her
On Our first date…
We never really had an official first date but I guess it would be when we met up on the boardwalk by my house in San Diego, walked along the beach and spent the day lounging at a cafe, enjoying conversation and getting to know each other.
During the first months of dating my deal-breaker would be…
finding out he was lying or cheating.
I learned He is right for me when…
we could spend hours upon hours talking about anything on Skype and texts. We were both so eager to learn about each other and our cultures. My love for him grew the strongest and fastest during this time.
I had a cultural shock when He…
got annoyed with me for not finishing all the rice at a sushi restaurant when I first visited him in Tokyo. I was just really full but he told me it was disrespectful.
3 things I love about Him are…
his silliness, the way he shows affection, and how it's only me that gets to see that private side of him. He is very shy and acts differently around others so I feel really special in the moments we have alone.
The biggest misconception about His country and culture was…
I thought that everything was super modern and futuristic before living here. Now I know that while some things are pretty modern and impressive, there is a very old-fashioned side of Japan that I doubt will ever change.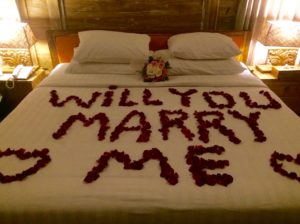 The most beautiful thing He ever did for me was…
Two things actually…after he confessed his feelings via Skype, he booked a flight from Japan back to California just to come see me again for a week. I was really surprised that someone would come that far just to see me for such a short time. Also, the night he proposed at our hotel in Bali, he had spelled out on the bed "Will You Marry Me?" in rose petals. I had no idea he was planning to do this and I couldn't have dreamed of a more perfect ending to our vacation.
During this relationship the most important thing I learned about myself was…
that my culture and the way I grew up was not necessarily the right way. It is now easier to take other people's life experiences and cultures into consideration and I try to learn about others and be open to new ideas during my interactions.
If there is a piece of advice I could give to my fellow Western girlfriends who are into the AMWF relationships that would be…
I know this has probably been said before but many Asian men think we don't find them attractive. Many are shy and may not feel comfortable approaching us. If you meet one or already know one that you want to get to know better, take the initiative and ask them out… it will take so much pressure off of them.
Questions to Him
Asking Her out for the first time was…
exciting but a bit intimidating as well. She is actually 5 years older than me and I was still studying in university at the time so I wasn't sure what she would be interested in dating me.
I learned She is right for me when…
we could talk about anything when I was back in Japan and she was still in the US. She would make time to talk to me anytime I could and I felt very comfortable with her. I also loved that before she moved to Korea, she came to visit me in my country for a week so I knew she was serious about me.
I had a cultural shock when She…
talks so fast in English (I call it a machine gun talk). She still does this all the time and especially when we are around her English speaking friends in Tokyo. It was shocking and hard to keep up with at first but after over 4 years together, I've gotten used to it.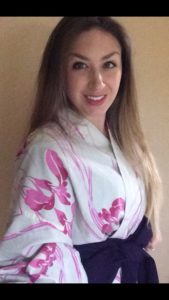 3 things I love about Her are…
I love that she is funny, beautiful and driven. She follows through with whatever she sets her mind to and I respect and love that about her.
The biggest misconception about Her country and culture was…
Many people from my country think that all Americans are really overweight but I've learned that after living there it really depends on the culture and habits of each specific city and state.
The things that She likes to do for fun with me are…
She likes to go traveling with me, cooking together and watching movies together at home on the weekends.
She hates when I…
when I come home late from work. I currently work as a "salaryman" at a traditional Japanese company and that means I work really late hours every night of the week. Usually, she is already asleep by the time I get home and we have no time to talk or just relax together. This can strain our relationship sometimes.
During this relationship the most important thing I learned about myself was…
how to have more flexibility and compromise more in relationships. We sometimes clash with our ideas about how we think things should be and I've had to learn to accept her views and ways of doing things at times.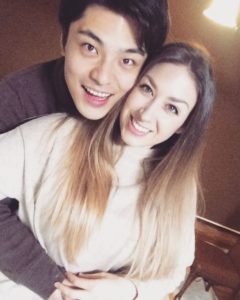 If there is a piece of advice I could give to my fellow Asian friends who are into the AMWF relationships that would be…
Be more aggressive and think positively about yourself. Don't overthink your language abilities and just approach a girl you'd like to get to know. If she is worth talking to she won't judge you for any mistakes you make.
Love this interview? Follow Michelle on Instagram!