The story of Natalia and Tony
Natalia (Poland) and Tony (Hong Kong) found each other on Tinder. During that time, Natalia was studying double bass at the Royal Academy of Music in London, while Tony was finishing his master degree as a pianist at a different school in London. After their first date, Tony was determined to have Natalia as his girlfriend. Tony confessed to her with a rose in the cinema after watching "Beauty and the Beast" together. They are now living together in London. In December 2017, they started a YouTube channel together named 'dimsum.pierogi' to share their joy in daily life as an AMWF couple. They traveled to Poland twice and are visiting Hong Kong and Tokyo in a couple of months.
Questions to Her
On Our first date…
We went to a Polish restaurant located in South Kensington in London. The restaurant was so beautiful, it looked like a palace. Tony was already waiting for me when I came. I saw a lovely man smiling at me. He made a very good impression on me. I was quite stressed as he was the first man I went to a date with before knowing him in person. We ordered dishes and started to talk. There was no awkward moment between us. We kept talking for many hours without stopping. He seemed to be a nice man with a good sense of humor, self- distance and an interesting mind. Before we met, I suggested going to my friend's birthday party after going to the restaurant but we could not stop our conversation so eventually, we gave up that idea. After finishing eating and talking, Tony suggested walking me home, what I found really kind. So he did, we had a very nice walk. When we got to my place we hugged and kissed cheeks. I was so happy he didn't try to get too intimate with me after the first date. It showed me that he was a man with good manners.
During the first months of dating my deal-breaker would be...
I think it would be impossible for me to be in a relationship with a man who isn't caring and supportive enough. As nowadays the world is crazy and we are constantly in a rush and under pressure, I think our second half should always show us how much love, care and support she/ he has to lessen all difficulties.
I learned He is right for me when…
We went to Poland for the first time. It was the best holiday I have ever had and was so excited to introduce him to my family. We spent a couple of days in Warsaw and in my home city- Wrocław. Tony fell in love with Poland. He also loved my family and treated them with much respect. We all had a great family time there learning about each other's cultures. Then I felt like he is the right person for me.
I had a cultural shock when He…
was very surprised that I didn't want to share food with him on the first date and just ordered a meal for myself. Back then, I wasn't aware that in China, people always order many dishes and share. Now, I love Chinese cuisine and I find it even more friendly than Polish cuisine because as a vegetarian I can find more foods there. Also, the idea of sharing everything makes meeting people even more interesting!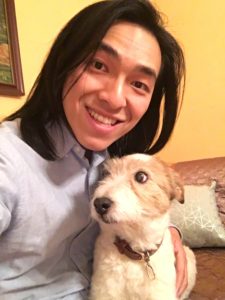 3 things I love about Him are…
I love the way he treats me. He always puts me in the first place and cares about my point of view. He always takes great care of me- never lets me carry anything heavy, always checks if I'm safe, never lets me worry. I also love that he completely accepts my body, I don't have to wear make-up and nice clothes next to him. He loves me with bad hair and a tracksuit as much as beautifully dressed with makeup on fleek.
The biggest misconception about His country and culture was…
I heard that people from Hong Kong were mean and quite rude before I met Tony. After meeting him for the first time he seemed to be nice. Then I thought that maybe it was only because it was our first date… Eventually, after having known him for almost a year I know it's a big misconception. Also, I got to know his family and friends and all of them are very kind, open-minded people who don't even treat me differently. I felt very welcomed by everyone. I feel completely accepted by his closest family and love chatting with them exchanging Cantonese and Polish languages! Can't wait to meet them in person in a couple of months! I need to enhance my Cantonese though! ☺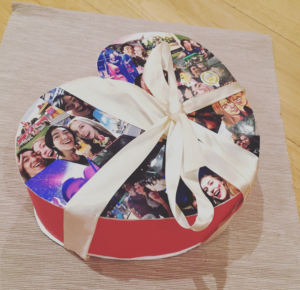 The most beautiful thing He ever did for me was…
Tony went to Hong Kong to deal with his visa and to see his family after a year. It happened that we spent our 6- month anniversary apart from each other. I didn't expect that he would prepare anything for me being so far away… and then I got a mysterious parcel in which I found a 3D heart with many memorable photos of us, beautiful words and even pictures of our first conversation on Tinder. It had to take so much time and energy of him, it was just amazing and extremely heart-warming.
During this relationship the most important thing I learned about myself was…
I realized that I finally was ready for a real relationship. I felt like I was mature enough to take care of someone and learn how to create a relationship on very strong fundaments, such as love, faith, self- distance, partnership, and loyalty. In a mature relationship you have to be ready to take responsibility for your partner's feelings and then you can expect him/ her to do the same.
If there is a piece of advice I could give to my fellow Western girlfriends who are into the AMWF relationships that would be…
I don't think there is any special rule to get into an AMWF relationship. Although, I could notice that generally Asian men are more serious about relationships and they want to build something stable. They love natural women who are caring and know how to behave classily. But remember- let them try hard to get you! If they could eventually win your heart- they would appreciate it like nothing in the world!.
Questions to Him
Asking Her out for the first time was…
It was super exciting and I couldn't wait to meet her! I reserved a table at a Polish restaurant for dinner with her. She was very shy at the beginning that she greeted me by shaking my hand, but I gave her a hug instead. In the way, she talked and the way she moved, she was just very cute and beautiful and I knew I would fall in love with her after the first sight. Even though we were simply chatting for hours and hours, it was a lovely evening. We had countless topics to talk about, music, life, hobbies, languages, cultural matters, you name it. After walking her home and arranging for the next date, I knew I had to grab this chance to impress her. I am so glad I did!
I learned She is right for me when…
I once got really really ill in London, and by that time we were already living together. She took great care of me and even cried right after I fainted in the bathroom. I felt so much loved and that I couldn't live without her since then. I have never had such caring girlfriend in the past. She has always been very caring and understanding to me since we got together.
I had a cultural shock when She….
The first time we went to Poland, we stayed a few days at Warsaw before we went to Wrocław to meet her family and friends. In Warsaw, all the Poles were staring at me for a long time EVERY SINGLE TIME even if I had caught their sight. I was so surprised and felt uncomfortable. I started concerning if her family would like me as a Chinese. It turned out her family was incredibly nice and welcoming. Her grandparents were trying to fill up my stomach the best they could, and her parents were very lovely and caring to me that I felt like a member of their family.
3 things I love about Her are…
1. She is one of the kindest people I have ever met. She loves animals and always cares about how people feel, especially me.
2. She is very cute and tender at heart, she gets touched very easily that she would cry for every movie she watches.
3. She is a very honest, loyal, lovely and more importantly, a supportive partner of mine.
The biggest misconception about Her country and culture was…
Most people regard Poles as Eastern European. However geographically, Poland is located in the middle of Europe. I have once introduced my girlfriend to my friend as an Eastern European until she corrected me.
The things that She likes to do for fun with me are…
We are both musicians, and music is another common language we speak besides English. We always sing and play different instruments together. Also, we love watching movies and traveling together. Lately, we have created a YouTube channel together where we post vlogs and interesting videos. We enjoyed so much making videos for the channel. One of the latest ones was a language challenge for us which we had to speak different words in each other's languages. Our cultural differences trigger countless of interesting things we could do, and it's been great fun!
She hates when I…
When we are in a rush to go out and I keep doing things slowly and making her nervous. But it rarely happens, believe me.
During this relationship the most important thing I learned about myself was…
I am a person worth being loved and respected. My past relationships didn't end up well, and I didn't have much faith to find the perfect relationship that I had been looking for until I found her. I used to think it might be me not being good enough in the past relationships. However, she proved that all I need is the right person who can understand and love you unconditionally.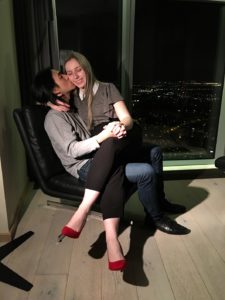 If there is a piece of advice I could give to my fellow Asian friends who are into the AMWF relationships that would be…
Confidence is the key. You don't have to be extremely handsome, tall, muscular, rich and all that, but confident. In Hong Kong or China in general, we are taught that Western culture is more superior to Asian's (at least it is in our sub-consciousness). However, I believe we are just humans and that we are all equal. My piece of advice would be "keep trying and trying, don't be afraid to achieve what you want because someone is waiting just around the corner!"
Love the interview with Natalia & Tony? Check out their Instagram and YouTube channel!