The story of Yoshi and Vale
Yoshi and Vale met on Hellotalk which is a language exchange application. He is Japanese, but he lives in the USA because he is a university student there, and she lives and works in Colombia. We have been having a relationship since January 27, 2016. We still have a long distance relationship, so we meet every summer and winter vacations. We have met three times so far. Even though she could not speak English at the beginning of the relationship, she studied English herself and practiced speaking it with me. Even though a long-distance relationship is hard, we are patient and we keep going.
Questions to Her
On Our first date…
we went to buy a shampoo for Yoshi. I know that it is not romantic, but being with him was the most important thing for me. I am sure he loves this memory too. After that, we went to the nearest store to eat ice cream. Since then, we have been loving eating ice cream together!
During the first months of dating my deal-breaker would be…
Our first months… were difficult, we tried to understand each other, but it was complicated because we could not speak the same language and, I have just started learning English myself. I also have to learn about his culture.
I learned He is right for me when…
I realized how protective of me he was. For example, when we walk down the street he makes sure I am on the safe side of the street.
He always makes sure that nothing bad happens to me or hurts me. Another example is when we played bowling. I had never done it before, so I went to throw my ball and threw it back. Then, he was suddenly behind me, and the ball almost hit him!
Even though it almost him, he was only worried about me. I was very embarrassed because it was me to almost hit him with the ball, and he just showed me his kindness and told me to be careful. I had never been with a boy who cared so much and tried to protect me.
I had culture shock when He…
The first thing is that he took off his shoes at the entrance to the hotel room. The second thing is that he sits in the SQUATTING POSITION. He does it many times, but when I try to do it, it's just too painful!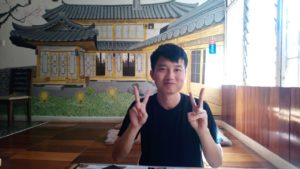 3 things I love about Him are…
First, he is very patient with me. Second, he tries to understand other people's feelings. The third thing is that he laughs suddenly without a reason.
The biggest misconception about His country and culture was…
When he told me that Japanese women's family names are changed to their husband's family names when they get married. It used to be like that in Colombia a long time ago, but I thought it was just the old custom. I did not want to change my name before, but now I can understand it more.
The most beautiful thing He ever did for me was…
He bought roses for me when I went back home from work. Even though he did not know the language, he somehow bought them on the street without me. I was so nervous and surprised, but it certainly made me happy to see his child-like smile when he achieves something.
During this relationship the most important thing I learned about myself was…
I learned to be more patient although I'm still working on that. Patience did not go well with me, but when I decided to be with Yoshi, we knew that we had to wait to reach our goals. I have also learned to appreciate the effort and see the things that other people do for me.
If there is a piece of advice I could give to my fellow Western girlfriends who are into the AMWF relationships that would be…
Each person is different and each couple is different.
We can not be guided by other people's lives and relationships because we are not same. Also, we should not generalize about Asian culture and Asian men. Speaking of my Asian boyfriend is the best thing that ever happened to me.
Questions to Him
Asking Her out for the first time was…
We live in the different city, so I asked her to be my girlfriend before asking her out for a date. So, I made a short video for her with my favorite songs and asked her to be my girlfriend. When I gave it to her, she was so happy. After that, we started talking about how we are going to meet. I met her 6 months later.
I learned She is right for me when…
Every time I buy some presents for her, she says it is expensive, she tells me to save my money, and that she does not need branded things. When she tells me about it, I feel that she only needs my love. Also, when she tells me she wants to call me every day, I feel she is right for me too.
I had culture shock when…
I took shower in the hotel and it was so cold, so I thought it was broken. I asked her to talk to about it to the hotel staff, but she said it was not broken and that Colombian people do not take a hot shower. That was shocking!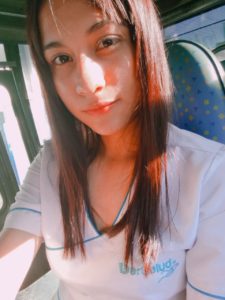 3 things I love about Her are…
The first thing is that I love is when she smiles. Her smile makes me so happy. Second, I love to see her excitement when she eats delicious food. The third thing is that every time, I am with her, she gives me a lot of love. She calls me every day too even when we are far away and busy.
The biggest misconception about Her country and culture was…
I thought Colombia is more dangerous before I went to Colombia. Even though some places might be dangerous, there were no many dangerous places in her city. I actually did not know anything about Colombian culture before my relationship with her.
The things that She likes to do for fun with me are…
She loves watching movies with me. When we go to the movies, we usually buy a popcorn, hot dogs, and juice. She focuses on movies and she cries every time movies have a sad story. Even though I do not understand Spanish movies, I am glad when she enjoys them. When we meet we always say that we will watch all of the movies that are being played at the theater.
She hates when I…
I sneeze too loudly. She becomes surprised so much by my sneeze because it is really noisy. Even though I would like to try to stop sneezing, I can not do it because it is natural for a person. When I tell her about it, she just laughs about it.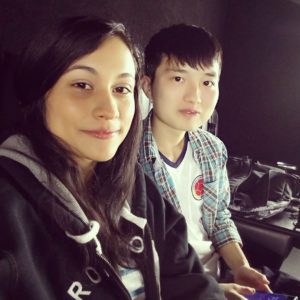 During this relationship the most important thing I learned about myself was…
that I am able to focus on only my girlfriend and go anywhere to see my love. I am a student, so I have more time than her. That is why I go to see her every time to spend more time with her. Even though it takes a long time to get to Colombia by airplane, it does not matter because I love her so much. Wherever she lives, I go to see her.
If there is a piece of advice I could give to my fellow Asian friends who are into the AMWF relationships that would be…
I think accepting different cultures or languages is not a big problem because each of us has different habits, favorite food, and uses different dialects even they live in the same country. It was never my problem. The hardest thing is to be patient to see her because we are in a long-distance relationship. We meet every six months. I think if you can be patient and wait for a long time to see your girlfriend, you can keep this type of relationship.