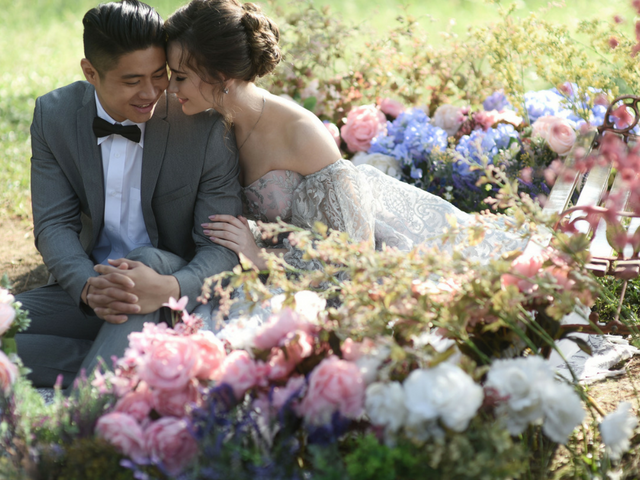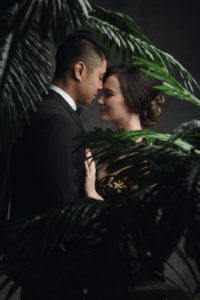 The story of Adeline and Glenn Sutanto
Adeline and Glenn met in Kazan, Russia (hometown of Adel). He asked her to be a tour guide for him and his swim team to show them the city, so she spent one week with him while he was in Russia. After that Adel and Glenn immediately started their LDR (long-distance relationship). It was quite challenging at the start as he left for training for the entire nine months. Happily, after over one year of chatting, Skype calls and a holiday together he proposed to her in Bali. Adel moved to Bandung, Indonesia and they started preparing for their three weddings: the wedding in Bali for friends, the second one in Bandung for Glenn's family and the third one in Kazan for Adel's family. 
What is a typical day of Glenn and Adel? They go to the gym together, have some photo shoots, and travel. Being very supportive of Glenn's swimming career, Adel regularly follows him to pool, competitions and interviews.
This August they celebrate 3 years since they met.  In the near future they plan to go for a holiday to Istanbul, Cappadocia, Paris and after that…they want to finally have a little baby Sutanto☺
Check out Glenn and Adel's hashtag #GAsutanto on Instagram to see more of their couple pictures.
Questions to Her
On Our first date
We were at the mall… Actually, I can't call it a "date", because it was our first meeting and he asked me to be a tour guide for him and his teammates. We just met in the front of "Pull and Bear", and we shared a 'wet-nervous-handshake' (haha). I remember that my English was so awkward because I studied at a German school and there was no English subject. I was so shy but at the same time very excited! I didn't think that it would turn into a real relationship, and I have never wanted to marry a foreigner before…
During the first months of dating my deal-breaker would be…
I don't like if a guy spends time with other girls if he is greedy or cold, careless and does not pay enough attention to the relationship.
I learned He is right for me when…
He said we would meet again and he came back to Russia to spend the winter holiday with me. After this event, I was sure I have chosen the right person and I have never doubted his feelings.
I had a cultural shock when…
He starts to eat and says 'I go eat first'. In my country, if you start to eat other people at the table should say to you 'Bon appetit', not the person who eats.
3 things I love about Him are…
He is always in a good mood and he makes me laugh.

He never compares me to others.

He is hot and cute outside, but gentle and kind inside.
 The biggest misconception about His country and culture was…
People in Indonesia always says "besok", which means "tomorrow", but most of the times they don't deliver their promises on time. It can take them days or weeks.
The most beautiful thing He ever did for me was…
when he proposed to me. It was super unexpected and breathtaking. During the last days of our holiday in Bali, he took me to one of the best hotels on the island, prepared flowers and arranged a drone. Then he suddenly turned to me, got on his knees and opened a red box with the beautiful ring. I was speechless and at first, I could not believe that it was happening "right now and right here".
During this relationship the most important thing I learned about myself was…
that I can wait for someone whom I love for a long time, even though there were 10 000 kilometers between us. I also learned that I can care about someone more than about myself. I can certainly say that I'm happy with him and that he makes me glow.
If there is a piece of advice I could give to my fellow Western girlfriends who are into the AMWF relationships that would be…
First, you need to understand that LDR is difficult and you need to be strong, more optimistic and less jealous. Sometimes you will be feeling alone, especially if the time difference is about 1o-14 hours. Imagine that you have just had lunch and he is going to sleep already!
Also, don't forget that your partner's world can be different than yours, so try to understand him better by reading about the history of his country, people and watch some TV travel shows. Discuss with him what you don't understand about his culture and explain patiently every time he has some questions about yours. Always double check with him because you might experience some language's barriers. It is important to put more effort while being in a long-distance relationship, for example, you can create nicknames for each other, share your favorite music, books, send a lot of pictures, prepare cute gifts for your next meeting. Once I created a picture made of four other images of me holding different birthday wishes in my hands. Then I baked a small birthday cake and when we had Skype I inserted candles in the cake and we blew them out together. Try to find common themes for your conversation, make more plans for the future, prepare for your holidays.
It's up to you girls, everything is in your hands! All you need is to be a bit more creative and your relationship will survive the long distance. Hopefully, it can also turn into a successful marriage 😉
Questions to Him
Asking Her out for the first time was…
I asked her to take our swimming team tour to see the city around, so she spent every evening with us while we were in her city for the competition.
I learned She is right for me when…
Back then in Kazan (her hometown) in August when we met I was not so sure about her, because we spent only one week together. But I already had feelings for her. When I came back to Russia in December I knew that I wanted to marry her. She always cared about other people and helped with everything. It was a very warm and romantic time even though it was almost -30 degrees Celsius in Russia in the winter. I realized she is special and I was waiting for nine months to propose to her.

I had a cultural shock when She…
asked me to walk around the city until 4.am in the morning. I never experienced something like that before. Maybe because in her country sunrise appears after 2 o'clock in the summer and you can see many people strolling around the city and enjoying summer. (Ed. during the famous white nights in Russia the hours between sunset and sunrise look like dusk and the darkest moment, around 2 a.m., is short-lived).
3 things I love about Her are…
Her beautiful green eyes… her splendid smile… her caring nature. She cares for everyone around her.
The biggest misconception about Her country and culture was…
Again, it was really strange for me when we walked around the city the whole night, maybe around 10km and it was until 3 o'clock in the morning. Later Adel explained to me that in Russia there are only 3 months of the summer (the rest of the time it's colder and darker), that's why people walk and enjoy the nature while it's still summer. In my country, people never walk outside, especially at night. That's why I could not understand it why she was going out at night last time.


The things that She likes to do for fun with me are…
Watching movies…traveling to the new countries and places, cuddling in bed, taking photoshoots together, shopping and eating street food!

She hates when I…
leave her and go for training or a competition. First time I left her for four months when we just met and then I came back for the winter holiday to spend this time with her. After that I had to leave her again for nine months, when I was in Australia, preparing for the Olympics. Then she came to Bali and I proposed to her. Afterward, she moved to Indonesia to live with me and I have been only leaving her for 1-2 weeks for competition. Recently I am in the USA so she is alone for the 3 months again. That's the difficult part of the relationship because we are family now.  
During this relationship the most important thing I learned about myself was…
that trust and respect are everything, especially when you are in the LDR. We actually didn't have a problem with that because we were always in touch through chats and video calls.
If there is a piece of advice I could give to my fellow Asian friends who are into the AMWF relationships that would be…
Be in touch with her parents or friends! Find them on social media and call them on the phone. They can really help you a lot including giving you the best advice on how to treat your girl better. For example last time Adel's mom suggested me to order flowers (girls love it so much, especially in Russia). The other time Adel's mom helped me with the size of the ring when I was planning to propose to her.
Also, be always open, tell her everything, ask about her opinion or advice. Remember that if she speaks a different language, you really need to explain things twice as much as you usually do. For example, the first time she said to me "you are crazy" I was a bit shocked! After we discussed it I understood what she meant. Now it's a normal word for us. 
Another advice. Be more romantic. Before you leave you can hide some small notes with love words around her home or somewhere else. You can also send her some cute gifts. There are so many delivery companies now. Don't forget to call and video call on a daily basis. This is a very unusual type of relationship, that's why be more creative and find the right way to treat your special girl from another side of planet 😉
If you want to see more pictures of this couple check out the Instagram of Glenn or Adel.
The eharmony Difference? Deep Compatibility! Try it Today – Free