The story of Luana and Pedro
Luana and Pedro met thanks to their common friends. They both live in Buenos Aires -Argentina, but he comes from South Korea. The cultural differences were not a problem for them; they soon become the best friends, and then a couple. They both were 17 years old when they started dating! Currently, after more than three years of relationship, they plan to finish their university studies in Buenos Aires, marry there, and then get married and stay in South Korea.
Questions to Her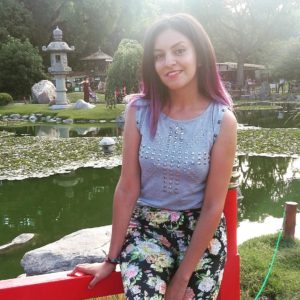 On our first date…
we were both very nervous because we did not have previous experiences. He proposed to go to the cinema and for a dinner. He was smiling shyly and looking at the floor. The date was full of many beautiful details, such as a small bouquet of flowers for me. I really felt like the inside of a Korean drama, one of those that I used to watch with my mom on tv.
During the first months of dating my deal-breaker would be…
his family. In particular Pedro's mother. She thought that her sons (and Pedro was the
youngest of them) should date within the Korean community in Buenos Aires. She did not like the idea of having a daughter-in-law of Argentine origin. She used to hinder him from attending our dates.
I learned He is right for me when…
he really was not interested in his mother's prejudices and was persistent in dating me. Finally thanks to his persistence, and after having met me, his mother accepted me and now we have a very good relationship. Without the effort he did, it would probably have been different.
I had a culture shock when…
He introduced to me the typical Korean food. I was not used to the spicy food, and most Korean food is so spicy! He loves Korean food, that's why even though I can't tolerate it, I learned to prepare typical dishes, like Kimchi.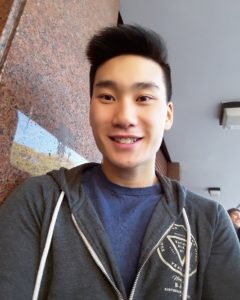 3 things I love about Him are…
First, I love his way of seeing life. For him, NO is not an answer. His philosophy of life is to fight to get what he wants, in all aspects of life. He is a fighter.
Secondly, I love his intelligence. He was always a good student and it seems that nothing is difficult enough for him. I admire him a lot!
Third, I love that he is a great companion for me. I am a fan of Super Junior (Korean K-pop group) and he does not like K-pop, but he respects that, supports me, and encourages me to pursue my dreams.
The biggest misconception about His country and culture was…
to believe that Korean people ate dogs. He explained to me that this was something happening mainly in the period of the war Korea went through in the 50s. Today is an eradicated custom.
The most beautiful thing he did for me was…
his way of asking me to be his girlfriend. It was in my first year at the University. He went to look for me at the exit of one of my classes with a sign that said "Do you want to be my girlfriend?" and a
bouquet of wildflowers (my favorites). I admit that I was embarrassed because there were many people outside of my University and they were looking at us, but it was really a beautiful, innocent and unforgettable proposal.
During this relationship, the most important thing I learned about myself was…
to be tolerant and patient. I chose as a personal phrase that "as long as love exists, nothing is impossible".
My advice to Western women who are in the AMWF relationship is…
that they should never give up in the face of cultural difficulties and culture shocks. If they met and fell in love, fate united them and as much as they refuse or try to avoid it if you mean to be together, that is what will happen. There are no limits to love. Be patient and love the person next to you without measure.
Questions to him
Inviting her to go out on our first date…
was really difficult for me. I had never done it before; I remember asking for advice my older brother. At that time I felt very nervous, I was afraid to make any mistake. Despite my shyness, when I saw her smile I just felt better. Finally, we both felt comfortable and had a good time.
I realized that she is the right person for me when she…
became my partner, my best friend, the person who encouraged me to achieve my goals. She always has a
word of encouragement for me when I'm going through difficult times. I enjoy feeling her
support when she hugs me.
I had culture shock when she…
invited me to drink mate (a traditional caffeine-rich infused drink in Argentina). I knew mate, but in my house, we never drink it. For her, it was a habitual drink. Until today, I do not get used to drinking mate, and I only accept a few for courtesy.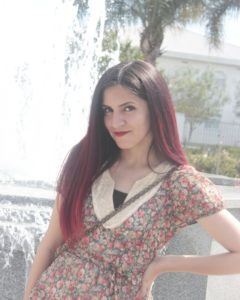 My three favorite things about her are…
First, she is really beautiful. She is physically beautiful, her eyes and her shy smile make me feel like in heaven. But she is also a beautiful person on the inside, she creates a lot of good feelings.
Second, she is my partner. It is a fundamental pillar in my life. She is the person who always motivates me.
Third, she makes me a better person. His positivity in all circumstances made me a more positive person too.
The biggest misconception about Her country and culture was…
We lived in Argentina with my family for many years, and I have suffered from racism constantly. I came to think that everyone in Argentina was racist and not very tolerant of the unknown. Finally, I realized that it is not true. Especially the younger people are more open-minded.
The things that She likes to do for fun with me are…
She has a lot of fun wearing"couple clothes" with me. I also find it fun to see how people observe us while we are walking in the identical shirts because in Argentina there is no custom like that.
She hates when I …
speak Korean and she does not understand. This happened more when we had little time to meet. Now she understands the language a bit more.
During this relationship, the most important thing I learned about myself was that…
I can love a person more than myself. While she is well, I will also be ok, and the most important thing is that I'm sure she feels the same.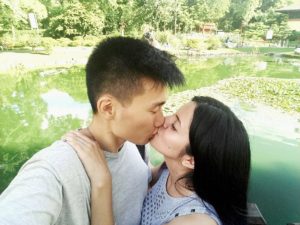 My advice for those Asian men who are in an AMWF relationship is…
that first, you should listen to yourselves, if you are sure of your feelings, you don't care about the distance, cultural differences, or what your families think. You must fight for your love and everything else will be accommodated over time.
If you love this sweet interview follow Luana on Instagram.